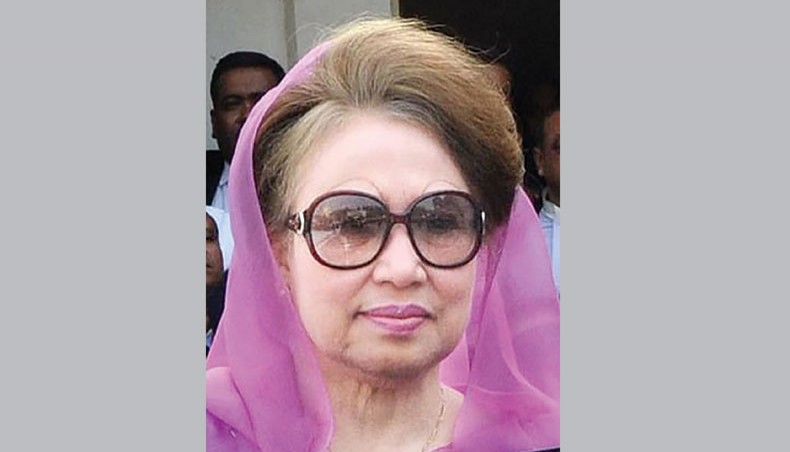 Nagorik Oikya and Ganosamhati Andolan on Monday in separate statements demanded that the ailing Bangladesh Nationalist Party chairperson Khaleda Zia should be allowed to go abroad for treatment.
The government on Sunday rejected an application of former prime minister Khaleda Zia's family to allow her to travel abroad for treatment.
In his statement, Nagorik Oikya convener Mahmudur Rahman Manna urged the government to give Khaleda Zia the opportunity to receive medical treatment abroad.
'I hope the government will move away from its position and arrange for Khaleda Zia to be sent abroad to ensure the highest level of medical treatment on humanitarian grounds as well as take all responsibilities of her treatment. Otherwise, if something happens to Begum Khaleda Zia due to the lack of proper treatment it will be perceived as the worst example of revenge in politics,' Manna said.
He said that in this situation, it is the responsibility of the government to send Khaleda abroad for better treatment as a wife of a Bir Uttom and three-time prime minister considering the humanitarian aspect.
'Convicted ASM Rob was allowed to take treatment in Germany in 1979 on humanitarian grounds. We expected some consideration before the case of Khaleda Zia,' Manna added.
In a statement, Ganosamhati Andolan chief coordinator Zonayed Saki and acting executive coordinator Abul Hassan Rubel, demanded the release of Khaleda Zia on bail and appealed for better treatment as per wish of her family.
The government should fulfil the desires of her family members considering it on humanitarian grounds and allow her to go abroad for treatment, as there were many such examples of allowing convicted persons to go abroad during the current government's rule, Ganosamhati leaders said.
Meanwhile, the Ziaur Rahman Foundation, in a statement, urged the government to allow Khaleda to travel abroad for treatment.
Besides, the Bangladesh Chhatra League, the student wing of the ruling Awami League, foiled a move by Jatiyatabadi Chhatra Dal to hold a rally to protest at the government decision on Khaleda's appeal, the student wing of the BNP, at the Dhaka University campus.
New Age DU correspondent reported that a number of JCD leaders led by Mansura Alam tried to hold a protest rally at Raju Memorial Sculpture altar.
Later, a group of BCL leaders led by Amir Hamza attacked on the JCD leaders and torn off the banner and placards in the presence of the police, witnesses said.
Meanwhile, a member of Khaleda Zia's medical team told New Age that the condition of Khaleda Zia was unchanged till Monday evening.
Earlier on Sunday, BNP secretary general Mirza Fakhrul Islam Alamgir said that Khaleda was breathing without oxygen support in the coronary care unit of the hospital.
He said that physicians informed him that Khaleda was suffering from post-Covid complications.
'Physicians have told me that the ongoing treatment is not enough for her and she is in danger,' Fakhrul said.
The 74-year-old Khaleda was released from Bangabandhu Sheikh Mujib Medical University's prison cell on March 25, 2020 on an executive order on conditions that she would take medical treatment at home and would not leave the country.
She has been staying at her Gulshan residence in Dhaka since then.
After Khaleda tested positive for Covid-19, she was admitted to Evercare Hospital in the capital on April 28 for some more tests as part of her follow-up medical check-up.
She has been undergoing treatment there as she was suffering from various post-Covid complications.
Khaleda was admitted to Evercare Hospital on April 28 for some tests but her condition deteriorated after hospitalisation and she was shifted to the coronary care unit with breathing problems.
Khaleda was convicted in two cases.