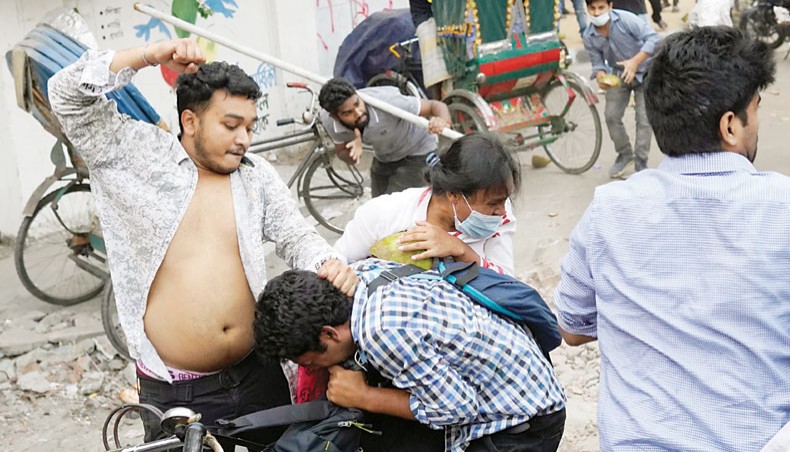 Leaders and activists of the Bangladesh Chhatra League, student wing of the ruling Awami League, on Tuesday attacked a protest rally against the scheduled visit of Indian prime minister Narendra Modi, leaving at least 20 students and photojournalists injured on the Dhaka University campus.
At least 15 members of left-leaning student organisations were rushed to Dhaka Medical College Hospital for treatment as the BCL members attacked their rally with bricks and sticks near the Dhaka University Teacher-Student Centre at around 5:45pm.
In the morning, BCL leaders and activists snatched an effigy of Modi from members of left-leaning Bangladesh Students' Front as they tried to burn the figure in protest against the visit of Modi to Dhaka.
Later, they burnt several photos of Modi terming him as a 'fascist ruler'.
Different political, religious and socio-cultural organisations have urged the government to cancel the invitation to Indian prime minister Narendra Modi for visiting Bangladesh in March 26-27 for joining the celebrations of the golden jubilee of the country's independence and the birth centenary of the founding president Sheikh Mujibur Rahman.
Students under the banner of the Progressive Students' Alliance again tried to organise a protest rally on the DU campus Tuesday afternoon against Modi's visit.
The BCL leaders and activists had taken position near the TSC and Raju Memorial Sculpture since the morning.
The students tried to burn an effigy of Modi again but the BCL members barred them, snatched away the effigy and attacked them, leaving many injured.
Bangladesh students' Front president Masud Rana, general secretary Rashed Shahriar, DU unit vice-president Sadiqur Rahman Sadiq and secretary Tama Barman and Bangladesh Student' Union central organising secretary Sumaiya Setu, central leader Asmani Asha and DU unit leader Meghmallar Basu were, among others, injured in the attack.
Socialist Students' Front DU unit president Salman Siddiqi said, 'Chhatra League members suddenly attacked our procession without any provocation.'
At least 20-22 students were injured and 15 of them have been rushed to Dhaka Medical College Hospital, he said.
Photojournalists Jibon Ahmed of Daily Manabzamin, Rubel Rashid of Desh Rupantor, Kazi Salauddin Raju of Zuma Press, Jabed Hasnain Chowdhury of UNB and freelance journalist Himu were injured during the attack.
Jibon Ahmed said that BCL members hit his camera with a helmet, injuring his left hand, while he was taking snaps of the attack.
DU assistant proctor associate professor Abdur Rahim said that he was not present there as he had tested positive for COVID-19. 'So it is tough to make any comment on the incident,'
Before the attack, the BCL organised a joyous rally on the university campus as India decided to confer 'Gandhi Peace Award-2020' on Sheikh Mujibur Rahman.
BCL president Al-Nahean Khan Joy, general secretary Lekhak Bhattacharjee, leaders and activists of different units of the organisation took part in the rally.
Lekhak claimed that leftist organisations' activists and leaders were engaged in a clash among themselves, leaving some of them injured.
The BCL was holding a programme in a nearby area, he said.