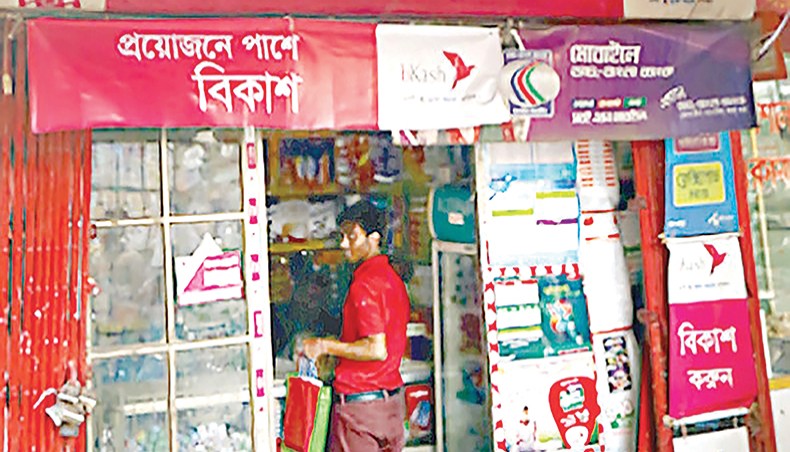 The number of mobile financial service accounts surpassed 10 crore at the end of January with the monthly transaction through the MFS reaching Tk 57,253.11 crore.
Data showed that the number of MFS accounts increased to 10.06 crore at the end of January 2021 from 9.93 crore a month ago.
Active subscribers of the MFS operators increased by 0.3 per cent to 3.24 crore in January from 3.23 crore a month ago.
The number of MFS accounts reached the millstone after posting a 29.26-per cent growth in transactions during coronavirus-hit year 2020.
The mobile financial service has emerged as a major mode of financial transaction facilitating businesses and people to meet their financial needs remotely without taking the hassle to go outside, officials of the MFS operators said.
For instance, the MFS providers have been giving utility bill payment facility, tuition fees payment of different educational institutions and purchasing tickets along with the basic services — cash-in and cash-out facilities.
Besides, the opening of MFS accounts has also been made convenient for the customers, giving extra boost to the MFS operators in onboarding new customers on their platforms.
Along with the MFS operators' drive to bring more people under the financial system, the Bangladesh Bank also formulated a number of policies to build a cashless society.
In November 2020, the central bank allowed banks and mobile financial service operators to open personal retail accounts so that the micro-traders and service providers can be brought under the digital financial ecosystem.
As per BB data, 15 MFS operators backed by banks are licenced to provide mobile financial service.
Of the MFS operators, Bkash of BRAC Bank is the most active and large MFS operator. The licencing issue of the MFS operator Nagad, a service of Bangladesh Post Office and is considered as the country's second largest operator, is under BB's consideration.
Apart from these two, Dutch-Bangla Bank's Rocket, Mercantile Bank's MYCash and Islami Bank Bangladesh's Islami Bank mCash are the major market players in the MFS market, among others.
Though the cash-in service attainment by subscribers of MFS operators dropped by 0.8 per cent to Tk 17,212 crore in January, MFS operators' cash-out transactions increased by 2.4 per cent to Tk 15,808 crore.
Person-to-person transactions and salary disbursements through MFS operators increased by 2.8 per cent and 4.6 per cent respectively in January 2021.
Inward remittance disbursement and the government's payments through MFS also increased notability during the period under consideration.