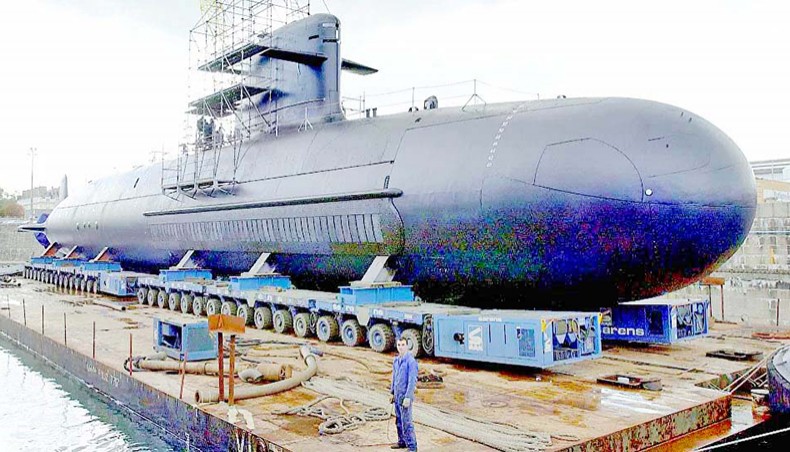 Changing geopolitics underscoring the competition for maritime economy, the availability of technology and countries with stable economic growth are likely to be catalysts in the proliferation of submarine arms in the future, writes Mohammad Abdur Razzak
IN 1981–1982, eight Asian countries had 147 submarines in their naval inventories. Out of the 147 submarines, 144 were conventional, coastal and mini submarines and three were nuclear attack submarines.
In four decades since 1981, the number of countries with submarine arms rose to 15. They together operate a total of 290 submarines. Out of the 292 submarines, 20 are nuclear submarines, 180 are conventional and 90 are coastal and mini submarines.
Out of the 20 nuclear submarines, the People's Liberation Army Navy accounts for 18, or 90 per cent, and the Indian Navy 2, or 10 per cent. PLAN operates 76, or 42 per cent, of Asia's conventional submarine force. The South Korean Navy operates 24 subs, or 13 per cent, the Japan Maritime Self-Defence Force and the North Korean Navy run 20 subs each, or 11 per cent, and the Indian Navy runs 14 subs, or 8 per cent. North Korea is the major user of the coastal/mini submarines, with 60, followed by Iran, with 27, and Pakistan, with 3.
In the regional context, only Indonesia in South East Asia had submarine arms with two boats in 1981–1982. The Indonesian navy's submarine arms began with one Whiskey Class submarine in 1960. The navy now runs five diesel-electric submarine. Three more boats are expected to join the navy by 2024. Out of 10 SEA countries, five — Vietnam, Malaysia, Singapore, Myanmar and Indonesia — now have conventional submarines.
Vietnam has a fleet of six Kilo class submarines. These can carry anti-ship torpedoes, missiles and land attack missiles. Vietnam's prime minister said in 2017 that Vietnam's submarine acquisition was neither a race nor a threat to regional countries but an increase in its capability to protect its waters and islands. Six subs together provide coverage for Vietnam's east coast and offshore islands.
The Royal Malaysian Navy inducted submarines in 2009 with two Scorpène Class attack submarines from France. The weapon systems include anti-ship missiles and torpedoes. The chief of the Malaysian navy announced in 2018 its plan to procure two more submarines as part of its Transformation Plan 2040. According to Malaysia's navy chief, the submarines will be beneficial in protecting maritime claims and security in the South China Sea.
The Republic of Singapore Navy has four boats acquired from Sweden between 2001 and 2013. Two Challenger class subs weapon system includes wire-guided torpedoes and two Archer class subs include WASS Black Shark heavyweight torpedoes. Two more submarines are expected to join the Singapore navy by 2024. Myanmar is the latest South East Asian country to commission one submarine on December 24, 2020. It has plans to acquire three more submarines by 2030. Taiwan in the South East Asian region operates for submarines.
Out of five maritime countries in South Asia, three countries possess submarine arm. The Pakistan Navy acquired its first submarine from the United States in 1964. In 1981–1982, the Pakistan Navy had six submarines but it now operates five diesel-electric submarines and three mini submarines. Pakistan reportedly signed a contract worth a $5 billion credit scheme with China to buy eight attack submarines. The first four subs are planned to join the navy in 2023. The Bangladesh Navy acquired its first submarine in 2017 and mow operates two boats.
China and India, the two largest countries in Asia, inducted submarine arms into respective navy in the 1950s and 1960s. China followed a naval development strategy diametrically opposite to India. India focused on the simultaneous development of the two strategic arms — aircraft carrier-centric task force and submarine fleet. China focused on developing submarine arms and positioned PLAN in submarine arms far ahead India. PLAN entered nuclear technology in 1967 and completed the first submarine in 1974. Now it commands 18 nuclear submarines.
The Indian Navy now operates 14 diesel-electric and two nuclear submarines. The nuclear submarines include one ballistic missile submarine and one nuclear-powered attack submarine. India conceived the idea of nuclear submarines in the 1960s. India in 1984 took INS Chakra-I (Akula II class nuclear submarine) on 10 years' lease from the former USSR to gain operating experience. India's navy in collaboration with France's Naval Group is reportedly building six Scorpène-class vessels at the Mazagon Dock Ltd. India also has a couple of programmes to upgrade its existing submarine fleet. Arihant's sister boat Arighat was launched in 2017 and expected to join the Indian navy in 2021–2022. India's navy signed another 10-year lease contract with Russia for Chakra-III to join the navy in 2025. The Indian Navy's strategic naval development programmes such as nuclear submarine and aircraft carrier have suffered from 'policy, financial and technology deficits' which have persistently kept the gap between desire and practicality.
In the Persian Gulf region, Iran has a fleet of four diesel-electric submarines and 27 coastal/mini submarines. Iran has faced heightened challenges for the past couple of decades from the United Sates and Israel. Diesel-electric submarines operate in deeper waters of the Gulf, the Gulf of Oman and the Arabian Sea. Mini submarines are for deployment in shallow waters in the Gulf. Both Islamic Republic of Iran Navy and Islamic Revolutionary Guard Corps Navy operate mini submarines.
The Israeli Navy had three submarines in 1981–1982. It now operates five Dolphin class diesel-electric attack submarine received from Germany. Israel joined the submarine club in the 1950s with British S-class submarines and one of the oldest operators of submarine in Asia. Two of the five submarines are equipped with air-independent propulsion system. There is suspicion that the Israeli navy has modified submarines to fire cruise missiles with nuclear warhead.
The North Korean Navy reportedly has a submarine fleet of 83 boats. Twenty are conventional submarines and two have the capacity to fire ballistic and cruise missiles with nuclear warhead. Sixty boats are coastal and mini submarines to deliver special forces into neighbouring coasts. The boats can also fire torpedoes. There is inference that the actual availability of submarines or small boats for operational deployment could be much smaller number than projected in the inventory.
Asian navies' submarine inventory reveals an increase in the number of countries and submarines since 1981–1982. Seven more countries inducted submarines since then. Five of them are in South East Asia and two are in South Asia. Submarine arms had the maximum proliferation in SEA, from two in 1981 to 18 in 2019–2020.
Conventional submarine registered a 36 per cent proliferation from 138 to 180. An increase in nuclear submarine was 3 to 22, 633 per cent. China has the largest increase in nuclear submarines which had three in 1981–1982 and no ballistic missile submarines. Now it has 18 nuclear submarines including seven ballistic missile submarines. India did not have a nuclear submarine in 1981–1982, now it has two. Nuclear submarine matrix tends to go up at a quicker pace both in China and India although India's submarine development programme is not getting the added impetus to offset China's submarine in the Indian Ocean.
Navies in the Far East, South East Easia, the Persian Gulf and South Asia are likely to remain import-dependent with occasional ventures to build submarines. Submarines in these navies are poised to offer a significant deterrence against incursion into respective maritime domain. Submarines will be in demand because of its inherent strategic value in offence, defence and deterrence. Changing geopolitics underscoring the competition for maritime economy, the availability of technology and countries with stable economic growth are likely to be catalysts in the proliferation of submarine arms in the future.
Mohammad Abdur Razzak is a retired commodore of the Bangladesh navy.