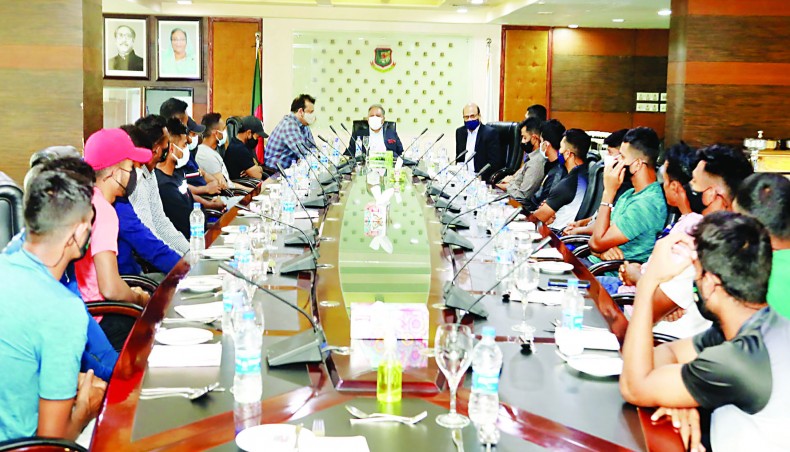 Bangladesh Cricket Board president Nazmul Hasan announced that the board will no longer force anyone to play for the national team in response to Shakib Al Hasan skipping the Sri Lanka Tests to take part in the Indian Premier League.
'Our mind is very clear on one thing. We are not going to force anyone to play. Whoever doesn't want to play won't have to,' Nazmul told the media after a meeting with the New Zealand bound Bangladesh team at the BCB office on Monday.
'Nobody is indispensible. We of course want everyone to play. But if someone prefers playing elsewhere other than the national team, they are free to go. This message is for everyone, it's not only for Shakib Al Hasan,' he added.
Shakib was picked by Kolkata Knight Riders in the IPL players' auction on Thursday and the following day he requested the board to skip the two-Test series against Sri Lanka to remain available for the full season of the IPL.
The board also accepted his request but on Monday Nazmul expressed his disappointment at the senior pro choosing to not play the Test series despite the teams horrid run in the format, as they have lost eight out of their last nine Tests.
'We are not embarrassed, we are disappointed by it [Shakib choosing IPL over national team]… We lost badly against Afghanistan, Pakistan and India. Against West Indies we lost back to back Tests at home soil. After that how can someone say that I won't play the next Test?
'I thought everyone will be eager to play the next Test. At this situation if someone says that he won't play the Test and instead will play in some franchise league, I think there is nothing left to say after that,' he said.
Nazmul also said that the board has come up with a plan to avoid such situations in the future, as the board will add a new clause in this year's players' contract, which is yet to be drafted, where the cricketers will have to write down which formats they want to play in.
'We will add a few new things in the contract. There it will be clearly written who wants to play in what format. They will have to say it. We also need to know that if at that time they have an opportunity to play elsewhere, will they play there or for the national team.
'Whoever signs that contract, we won't allow them to go. The entire thing is very open. They won't be able to complain that they weren't allowed to go or are being forced to play. Whoever doesn't want to play, won't play.'
Mustafizur Rahman was the other Bangladesh cricketer to be picked in the IPL auction and Nazmul informed that the board will also give him a leave if he asks.
'Mustafiz came today [Monday] to meet me. He asked if he should go to the IPL. I said that I have nothing to say in this matter. If you want to play there, give us a letter we won't stop you.'