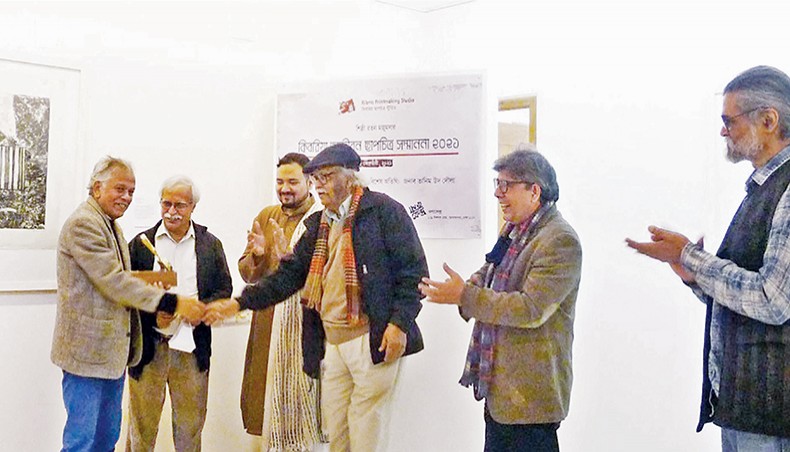 A group art exhibition highlighting works by Kibria Lifetime Achievement Award-winning artists is under way at Kalakendra on Iqbal Road in the capital's Mohammadpur area.
The 21-day exhibition titled, Chhapchitra Sammanana Pradarshani 2021 is organised by Kibria Printmaking Studio. The show features a total of 21 original prints by eight Kibria Lifetime Achievement Award-winning artists.
The artworks were created using mediums such as etching, woodcut, lithograph, monoprint, mezzotint and others.
'This year, due to the COVID-19 outbreak, the gallery could not arrange the Kibria International Print Fair. However, they have given Kibria Lifetime Achievement Award 2021 to artist Ratan Mojumder which usually takes place during the fair. This year, art lovers will be able to see the works by the award winning artists. The exhibition also features works by four young artists who joined in the residency programme at Kibria Printmaking Studio for four months,' Wakilur Rahman, artist and curator of Kalakendra, told New Age.
Besides this year's winner Ratan Mojumder, other participating artists are Mahmudul Haque, Monirul Islam, Abul Barq Alvi, AKM Alamgir Huq, Kalidas Karmakar, Rafiqun Nabi and Shahid Kabir.
Renowned artist Rafiqun Nabi inaugurated the exhibition as chief guest on February 5. Ratan Mojumder received Kibria Lifetime Achievement Award 2021 at the event.
Eight woodcut prints by Ratan Mojumder are on display at the exhibition which reduces the chosen subject matters to bare essentials. If the themes such as kite and creation are reduced to geometrical compositions, in exploring the themes of garden, nature and social system, Ratan Mojumder divides the pictorial space into smaller segments and fills them up with real and pictorial elements.
Ratan Majumder's work titled Somajer Roop is composition made out of dots, lines and forms. The artist makes an attempt to portray the divisions and disparities that exist in our society.
Ratan's another artwork titled Bagan shows various smallish forms and shapes as well as lines and dots set against a background which is black in some areas and white in others. The white parts look barren and can be perceived as a symbol of deforestation.
Mahmudul Haque's works are done in mezzotint. His Desire-1 shows a wall with a rectangle. The work at once looks like a window and a geometric form due to the absence of the illusion of spatial dimension.
Artist Rafiqun Nabi's woodcut print titled A Street Boy shows a street boy walking on a city road. The backdrop of the work shows a building with some birds flying.
Kalidas Karmakar's untitled work shows a blindfolded man with a something abstract below the portraiture. It is one of his early etching works by the master artist whose acumen lied in creating contours and textures on the surface of the print.
AKM Alamgir Huq's lithograph work titled Adorable Couple shows figures of a couple inside a house. They are covered with various lines, shapes and forms.
Four young artists, namely Susmita Barua, Nasrin Jahan Onika and Rafiqul Islam Fahria Rahman are also showcasing their recent works at the exhibition.
The exhibition will end on February 26.