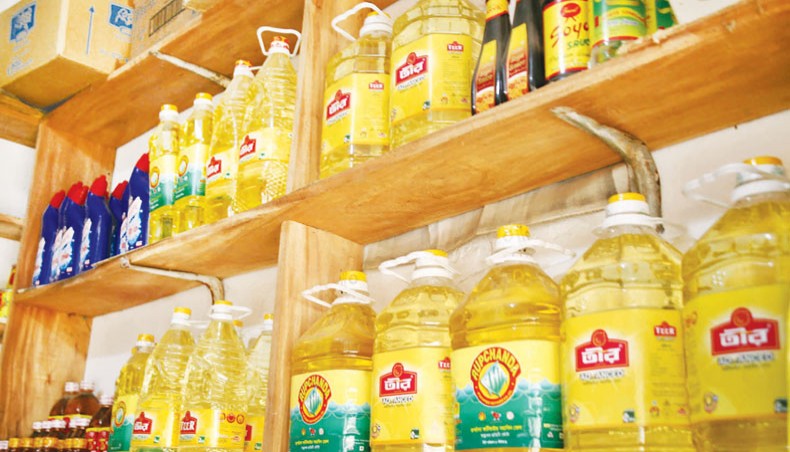 The commerce ministry will strengthen its monitoring on the local market to keep the prices of edible oil compatible with the international market prices.
A committee comprised of senior officials of the government and representatives from businesses would regularly monitor prices of edible oil so that no vested interests could manipulate the market, commerce minister Tipu Munshi said at a press briefing following a meeting with importers, refiners and traders of edible oil at his office in the capital on Sunday.
Against the backdrop of excessive price hike of edible oil, the minister arranged the meeting with the traders to assess the overall market situation.
The government has taken an initiative to ensure fair prices of essential commodities, including edible oil, Tipu Munshi said at the briefing.
He said that the activities of the committee on assessing prices of essential commodities were strengthened to ensure prices of imported commodities compatible with the international market prices.
The minister said that they requested businesses to import and stock a large quantity of essential commodities to meet the increased demand during Ramadan, fasting month for the Muslims.
This year the Trading Corporation of Bangladesh would sell commodities three times higher than the previous year to keep the praises of daily essentials stable on the market during Ramadan.
In the meeting, traders said that the prices of edible oil increased by 75 per cent on the international market and the local prices remained below the international prices, sources said.
In the meeting, the Bangladesh Trade and Tariff Commission suggested that the ministry should implement the Essential Commodities Marketing and Distributor Appointment Order 2011 to ensure effective supply chain of edible oil in the country.
The commission in its presentation said that change of hands of supply orders twice and thrice was one of the key reasons for the price hike of edible oil.
Commerce secretary Md Jafar Uddin, BTTC chairman Munshi Shahabuddin Ahmed, Meghna Group chairman Mostafa Kamal and representatives from different ministries and departments, among others, attended the meeting.
The price of soya bean oil continued to rise on the local market for the last two months and the prices increased by Tk 25-35 a litre in the period.
A one-litre bottle of soya bean oil sold for Tk 140 while five litres of packaged soya bean oil sold for Tk 580-650 on Sunday.
Unpackaged soya bean oil sold for Tk 115-120 a litre and palm oil sold for Tk 105-107 a litre on the day.