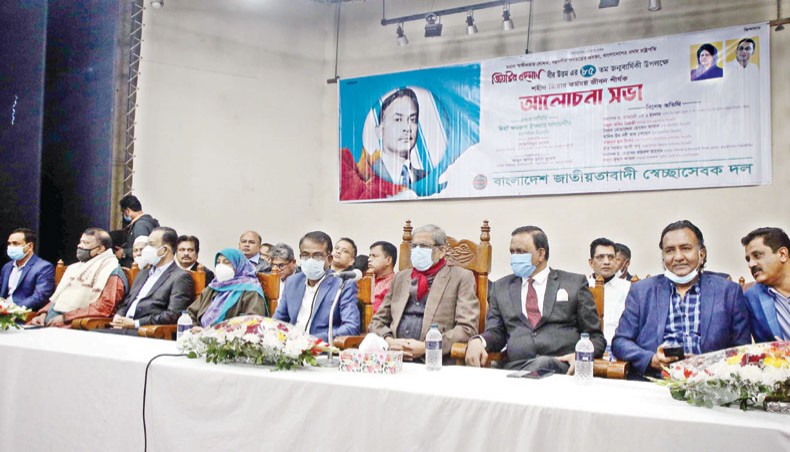 Bangladesh Nationalist Party secretary general Mirza Fakhrul Islam Alamgir on Wednesday said that the party's founder and the former president of the country, Ziaur Rahman, reinstated the freedom of the media as part of his promise to raise the spirit of independence war.
He said this while addressing a discussion on the life and works of Ziaur Rahman at the Supreme Court Bar Association auditorium in Dhaka marking the leader's 85th birth anniversary.
Zia was a percipient leader, who reintroduced the democratic system for the development of the country, he added.
Fakhrul complained that the government had failed to give a plan on how the people would get vaccinated.
'Total 20 lakh doses of coronavirus vaccines will arrive on the first phase but we are still in dark about who will get the vaccines and who will not,' Fakhrul said.
The government and the ruling party leaders have started looting public money in the name of procuring vaccines from the abroad, he alleged.
Referring to the observance of golden jubilee of the independence, Fakhrul said that the Awami League government had infringed the democratic right of the people.
Fakhrul called on all political parties to unite and wage anti-government movements for restoring democracy.
Chaired by Jatiyatabadi Swechchasebak Dal acting president Mostafizur Rahman Babul, its general secretary Abdul Kader Bhuiyan Jewel, BNP central committee leaders Habib Un Nabi Khan Sohel, Mahbub Uddin Khokan, Tazmeri SA Islam and others spoke at the discussion meeting.