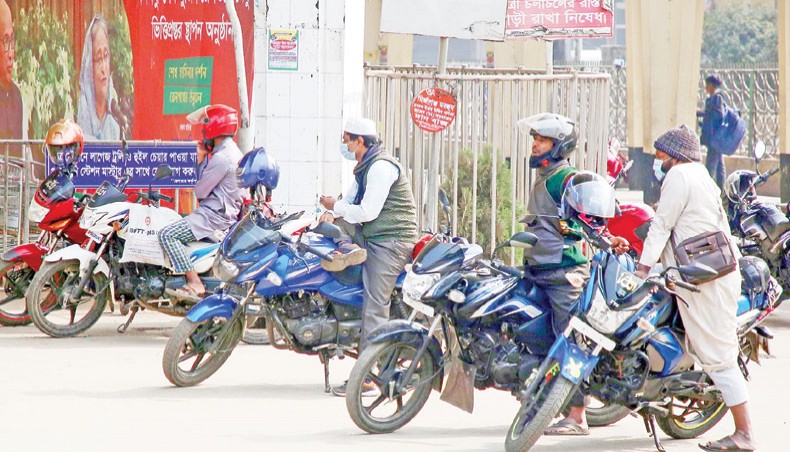 Many drivers who registered their vehicles with different ridesharing companies in the country are violating the existing guidelines and policies in the absence of monitoring.
Many of them are now also offering offline services illegally to earn money while in some cases the incidents of hijacking and even murder have marred the otherwise thriving sector.
There are also allegations that drivers are charging extra during peak hours violating the existing guidelines.
Many ridesharing taxicabs are also running on contract basis, allege passengers.
The ridesharing service providing companies are yet to develop any monitoring system to prevent the growing number of offline rides, said Bangladesh Road Transport Authority chairman Nur Mohammad Mazumder, who also added that in the COVID-19 situation there had been a rise in offline trips.
Against this backdrop, recently they asked the ridesharing and taxicab companies to strengthen their monitoring system to check these irregularities, he added.
Introduced in 2016, the app-based ridesharing services, particularly in Dhaka and other metropolitan cities, have gained popularity and became a full time earning source for many people.
The BRTA on July 1, 2019 began to implement the Ridesharing Services Guideline 2017, which came into effect on March 8, 2018, allowing the commercial use of privately owned vehicles.
Currently, 12 ridesharing companies are registered with the BRTA while 11 more companies have already applied for registration.
Under the 12 registered companies around 21,400 vehicles, of which around 80 per cent are motorcycles, have mandatory enlistment certificates while a huge number of vehicles registered under these companies are yet to get that certificate, said BRTA officials.
A huge number of motorcyclists can be found daily at different road crossings in the capital offering offline services to passengers.
They can even be found shouting names of destinations and fare rates to attract riders parroting a driver's assistant of a local bus — 'Gulistan Tk 80'.
AKM Fazli Elahi, general manager and head of passenger services at Obhai Solutions Ltd, alleged that soon after the introduction of the service some of the drivers started to take passengers without using the apps to avoid paying commissions to the companies.
'This mostly happened with motorcycles as we rarely get any complaints about cars,' he said and added that apart from the losses incurred, there were other risks linked to such violations.
Fazli said that there were many incidents in which both riders and passengers were involved in hijacking. While riders got away with the passengers' belongings, the passengers were also involved in hijacking the vehicles of the riders, he explained.
It is not possible to detect the offline services without getting complaints from passengers, he continued.
'After getting complaints against drivers offering offline services, we immediately blacklisted them,' he said and added that they were trying to make both riders and passengers aware of the risks of offline services.
Md Milon, a motorcycle driver registered with a ridesharing service died on August 26, 2019 after the passenger slit his throat on Moghbazar-Mouchak flyover in Dhaka and hijacked his motorcycle.
Later, police found that Milon took the passenger without using any apps.
BRTA chairman Nur Mohammad Mazumder told New Age on Thursday that recently they held a meeting with all the ridesharing companies following a series of complaints that many riders were offering offline services.
'While we asked the companies what monitoring system they have in place to check the irregularity, they answered that they did not have any mechanism,' he said.
He said that there were also allegations that some companies charged extra during peak hours.
'We also wanted to know about the reason behind uneven faire rates and the representatives of the companies said that they followed the Taxicab Service Guideline, 2010 but due to competition the fare rates varied,' he also said.
Nur said that at the meeting they had decided that both the BRTA and police should strengthen monitoring.
The BRTA executive magistrates had already been instructed to check vehicles under the ridesharing services whether the drivers were using the apps and to take legal actions in case of any violations, he continued.
He said that the ridesharing companies should also strengthen their monitoring and controlling systems for their own sake.
About the taxicab services, he said that at the same meeting they had given the same instructions to the taxicab companies.
Services of taxicabs were shrinking after introduction of ridesharing services, he added.
Some of the companies registered with the government include Pathao, Shohoz Limited, Chaldal Limited, Akash Technology Limited, Easier Technologies Limited, Akij Online Limited, Pickme Ltd, Buddy Limited, Segesta Limited, Uber Bangladesh Limited and Computer Network System.
According to the BRTA, 30,136 taxicabs were registered in Dhaka city. Most of these are currently off the street, said the BRTA chairman.