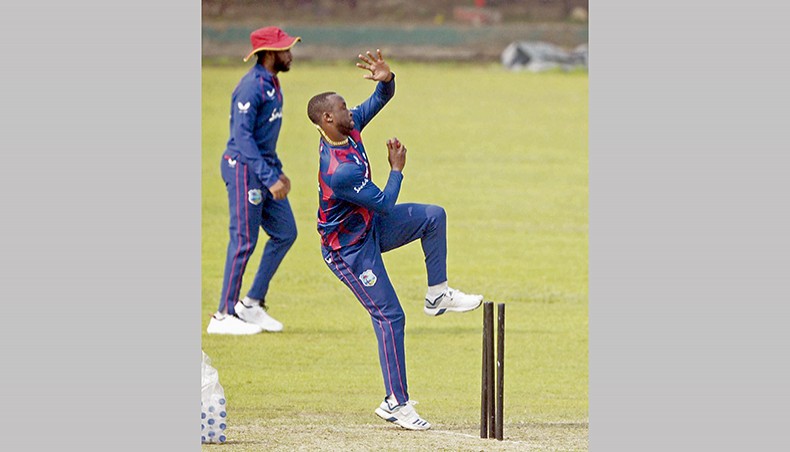 Aggressive bowling and attacking field settings will be the key for West Indies pacers to find success in the forthcoming Bangladesh series, said Caribbean speedster Kemar Roach.
Roach will spearhead the West Indies attack in the two-Test series starting from February 3 in the absence of a number of experienced players who skipped the series citing COVID-19 related concerns and personal reasons.
Roach has an exemplary record against Bangladesh in Tests, as he has captured 33 wickets in eight Test appearances against the Tigers at an average of 19.78, his best among all opponents in the format.
In Bangladesh, wickets are usually not conducive to fast bowling but Roach believes the visiting team pacers can still be affective in the upcoming series if they bowl with aggression and have attacking field placements.
'In Bangladesh it's always difficult for fast bowlers to get wickets…. I am looking forward to doing well here as well,' Roach told the reporters after the visiting team's practice session at the BCB Academy ground on Friday.
'You try to bowl straighter because there is not much bounce in the pitches. It's that you attack at the field, set your fields well.
'While there are changes you can obviously do, like changing the pace and slow it up and stuff like that. But basically keep it simple, bowl in good area, attack as much as possible and set up a pretty good field,' Roach said.
This is the second time Bangladesh will play a series against a West Indies side who are missing several of their first-team players.
In 2009, West Indies had to field a second string team against Bangladesh as all of their national team players refused to play due to a pay dispute with their cricket board.
Roach was one of the many players who made their debut in that series and gave early signs of his potential by claiming a five-wicket haul in the second Test of that series.
Roach feels that the current team has more experienced players than the side that played in the 2009 series and is working hard to prepare for a tough series ahead.
'I think I was pretty inexperienced and I think the guys handled pressure pretty well. Now we are experienced, most of us. And it's the second time we are here in recent times.
'It's about obviously planning well as I said and know what you want to do as a group and as a team. We are doing good practice and have the confidence and hopefully we can take that into the practice matches and into the Test series.'