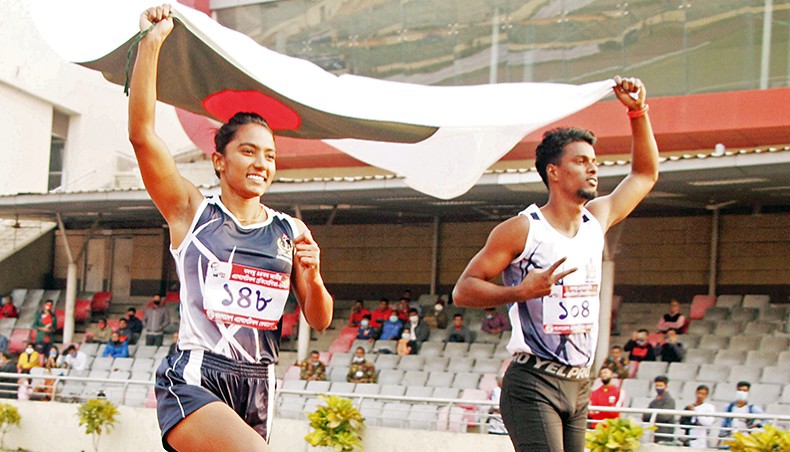 Navy's Ismail Hossain and Shirin Akter continued their domination in the 100-metre sprint while Army's Ritu Akther set a new national record in high jump on the opening day of the 44th National Athletics Championship at the Bangabandhu National Stadium on Friday.
Ismail clocked 10.55 seconds for his third consecutive title in the men's section while Shirin clocked 11.80 seconds to win her 11th title in this event in a row.
Ismail took 0.15 seconds more than his previous edition's timing while Shirin, who set national record with 12.10 seconds in 2019, took 0.30 seconds more than the last edition.
'I was confident of retaining the title. 10.55 seconds is not a bad timing. I could do better if I could train in abroad, but could not manage that due to the COVID-19 pandemic,' Ismail said.
'I extended my record. For the 11th consecutive time I have become the fastest women of the country. I have a target to win the event as long as I run,' Shirin said.
High jumper Ritu set a new national record in the women's category by clearing 1.70-metre, breaking the previous record of 1.68-metre set by Umme Hafsa Rumki in 2019.
'My target was to jump 1.73-metre but could not do it today [Friday]. I am happy that I won gold in the end…Not disappointed at all,' Ritu told reporters in her immediate reaction.
In the men's high jump, Army athlete Mahfuzur Rahman clinched the title for the third consecutive time, clearing 2.10-metre.
Police athlete Imtiaz Hossain emerged champion in the men's shot-put event, clearing 14.14-metre distance while Ansar and VDP's Sraboni Mollick cleared 11.51-metre distance to bag women's shot-put title.
Navy also triumphed in both men's and women's 400-metre relay events.
Navy's Rakibul Islam won the men's 1500-metre race, clocking 4:20.80 seconds while Army's Sumi Akter clocked 5:07.60 seconds to triumph in women's category of the same event.
Army's Farid Mia emerged champions in marathon race event, clocking 2:44:15 while his teammate Soheld Rana emerged champion in the 5000-metre race.
After the opening day, Navy were leading the medals table with 12 medals — six gold, four silver and two bronze while Army bagged 18 medals – four gold, eight silver and six bronze medals.