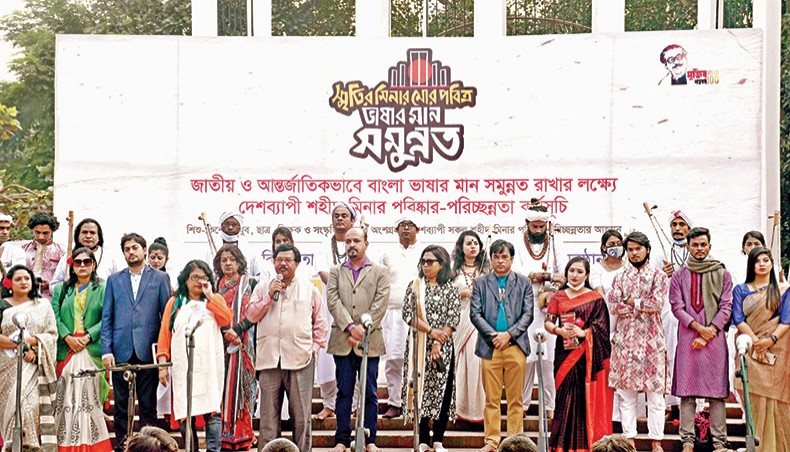 Leading and promising artists of the country created artworks depicting the language movement and International Mother Language Day and artistes of Bangladesh Shilpakala Academy presented cultural performances at a daylong event held at Central Shaheed Minar on Wednesday.
The event was jointly organised by Bangladesh Shilpakala Academy and People's Theatre Association as part of a cleanliness campaign which aimed at cleaning the Shaheed minars across the country.
Artists including Jamal Ahmed, Biren Shome, Fazlur Rahman Bhutan, Syeda Mahbuba Karim Mini, Shahjahan Ahmed Bikash, Kiriti Ranjan Biswas, Karu Titas, Farzana Islam Milki, Farhana Afroz Bappi, Kabir Ahmed Masum Chisti, Farzana Ahmed Urmi, Rashed Sukhon, Sujon Mahbub and Nur Munjerin Rimjhim participated in the art camp which began at around 12 noon.
Biren Shome created a painting depicting people placing floral wreaths at the Central Saheed Minar while three birds are seen in flight in the background.
'The journey towards independent Bangladesh began with the language movement. I thank the academy for organising the art camp. We are creating paintings on the language movement and International Mother Language Day. I urge the government to take an initiative to clean the Central Saheed Minar once a week,' said Biren Shome.
Jamal Ahmed created a work depicting the country's founding president Sheikh Mujibur Rahman.
Syeda Mahbuba Karim Mini created a painting portraying the language movement. The painting shows people walking on a street holding placards, banners and festoons demanding Bangla as the state language in 1952.
BSA director general Liaquat Ali Lucky inaugurated the event sweeping the Central Shaheed Minar area along with renowned artists Biren Shome, Jamal Ahmed, director of BSA fine arts department Syeda Mahbuba Karim Mini and others.
'Central Shaheed Minar reminds us of our love and sacrifice for our mother tongue. The monument should be kept clean all the time. Besides Dhaka, we are holding similar programmes at all districts with the help of district Shilpakala Academy branches and local artistes,' Liaquat Ali Lucky told New Age.
Lucky also said that from now on the BSA will organise the programme at Central Saheed Minar every month. He also spoke about the academy's upcoming event marking the International Mother Language Day.
'We will arrange a light and sound show at Central Saheed Minar in February. The production will portray the history of the language movement,' added Liaquat Ali Lucky.
In the afternoon, Bangladesh Shishu Acrobatic Daal entertained the audience performing a stunning display of balance and tricks.
Child artistes of the academy presented a production comprising songs and dance. The production titled 'Janmashatabarshe Jatir Pita' has been written and directed by Liaquat Ali Lucky.
Besides, Shamima Chowdhury Alis recited poems on the language movement and BSA Baul Daal presented traditional songs.