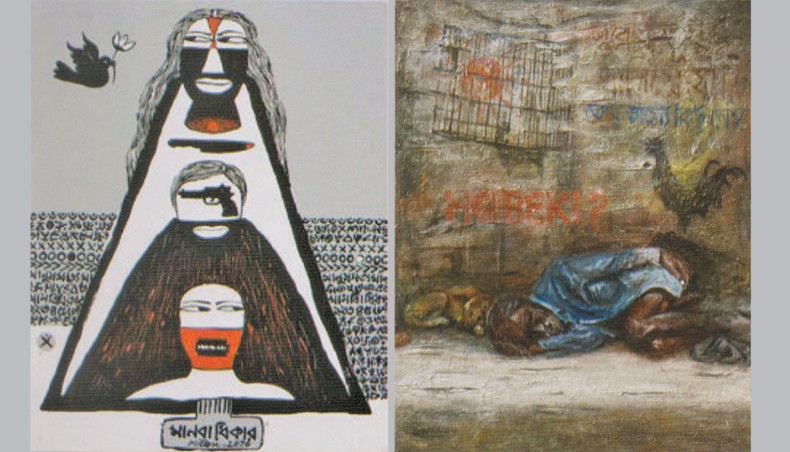 A group art exhibition titled Power of Art featured 30 artworks by 15 young artists at Gallery 9 in Badda, Dhaka.
The works displayed at the exhibition were produced during a two-day art camp held between September 5 and September 6.
'The art camp was held at Barnachhata Resort in Savar amid the COVID-19 crisis. It was challenging to organise such an event following health directives and maintaining social distancing. The topic was the contemporary human condition and the path to development,' said Gazi M Rahman, curator of the exhibition.
'Artists created works of art with democracy and human rights in mind. The artists presented their works using their own vision and technique of representation,' he added.
The artworks were mostly created using acrylic and pen on canvas and the participating artists tackled themes such as everyday objects, leaves, silence, wires, life amid the COVID-19 outbreak, human rights, democracy and others.
The participating young artists were Tanzil Hasnain Moin Roneet, Soma Surovi Jannat, Sadek Ahmed, Rezaul Hoque, Promotesh Das Pulak, Najmun Nahar Keya, Md Mahabub Rahaman Khan, Abdul Momen Milton, Khandakar Nasir Ahammed, Imtiaj Rasel, Hossain Muhammad Farook, Golam Faruque Swapan, Gazi M Rahman, Farzana Ahmed Urmi and Fahmida Khatun.
They participants attended the art camp under the aegis of artists Shishir Bhattacharjee and Mostafizul Haque, professors at the faculty of fine arts, Dhaka University. Both the professors also participated in the exhibition with one work each.
The art camp was supported by International Republican Institute.
US Ambassador to Bangladesh Earl R Miller was present as chief guest at the inaugural ceremony on November 29.
To mention a few works, artist Mostafizul Haque's acrylic painting titled 'Horse' shows two horses surrounded by various lines, shapes and forms creating a sense of harmony.
Artist Abdul Momen Milton's acrylic painting titled 'Human Right' shows a pyramid where three human faces are strategically placed at the bottom, top and middle. Half of the face at the bottom is painted red while the middle face is covered with a gun and the top face is covered with black and red colours depicting the violation of human rights in society. The top left part of the work shows a bird flying holding a flower in its beak.
Artist Rezaul Hoque's work titled 'Trapped Life-2' shows an old man sleeping on a footpath beside a dog. The background shows a wall with a graffiti showing a bird cage, a rooster and other elements.
Tanzil Hasnain Moin Roneet's acrylic work titled 'Tangled-2' shows an electric pole in a tangle of wires representing the danger that lurks behind the unruly development experienced in the urban centres across the country in the past couple of decades.
The exhibition ended on December 10.