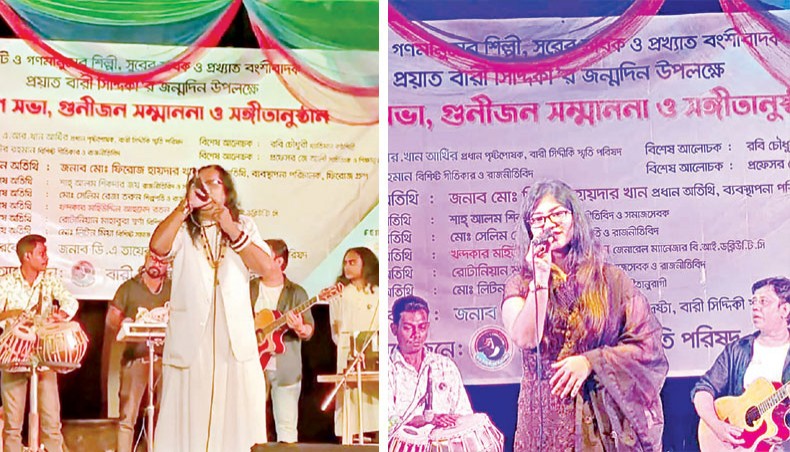 The late acclaimed singer and flautist Bari Siddiqui was remembered at a programme held at the Music and Dance Centre of Bangladesh Shilpakala Academy on Saturday.
Bari Siddiqui Smriti Parishad organised the event marking the 66th anniversary of birth of Bari Siddiqui.
The programme featured discussion, awards ceremony and music show.
Firoz Group managing director Firoz Haider was present at the programme as chief guest while renowned lyricists Hasan Motiur Rahman, Delowar Arjuda Sharaf, singers Rabi Chowdhury and Salim Reza, among others, were present as special guests.
Actor DA Tayeb, also the chief advisor of Bari Siddiqui Smriti Parishad, presided over the programme.
Bari Siddiqui Smriti Parishad patron Ataur Rahman Khan Akhir gave the welcome speech.
'Bari bhai was very close to me and we had visited many places together. I was greatly inspired by him. We have been celebrating his birth anniversary organising colourful programmes since 2017. We have also honoured a number of folk singers with Bari Siddiqui Smriti Padak till date. This year we honoured 20 folk singers with the award for their contribution to the country's music arena,' said Prince Alamgir, president of the Bari Siddiqui Smriti Parishad.
'I am a big fan of Bari Siddiqui. His songs evoke serenity. I am honoured to be invited to today's programme,' said Firoz Haider.
'He had captivated music lovers playing flute and rendering timeless songs during his long and illustrious music career. His songs like Shua chan pakhi, Amar gaye joto dukkho shoy, Pubali batase, Matir deha and others are still popular among the masses,' said Rabi Chowdhury.
Following the discussion, Bari Siddiqui Smriti Parishad honoured Baul Shafi Mondol, Shahnaz Belly, Tamanna Haq, Munia Mun, Halim Arman, Rajib Siddique, M Hasan, Alam Ara Minu, Fakir Sahbuddin, Roxy Ahmed, Ashraf Udas, Mujib Pordeshi, Pathik Hasan, Bindu Kona, Prince Alamgir and others with Bari Siddiqui Smriti Padak 2020.
Besides, leading singers rendered popular songs of Bari Siddiqui to the delight of the audience.
Baul Shafi Mondol sang Ei prithibi jemon achhe and Din ratrir hoina re milan, Shahnaz Belly rendered Ami jadi brikkha hoitam and Ek bar hoto Jadi, Tamanna Haq sang Piriti sakale bojhena and Matir deha khoy korilam, Rajib Siddique rendered Sadhon bhajon oti bhakti and Rajani hoisna obasan, M Hasan sang Jibon jadi badal kora jeto and
Pubali batashe, Fakir Sahbuddin rendered Amar gaye joto dukkho shoy and Roxy Ahmed sang Matir deha.
Bari Siddiqui was born on November 15, 1954. He was drawn to music at an early age. He received classical music lessons under Ustad Gopal Dutt, Ustad Aminur Rahman, Babir Khan and Pannalal Ghosh. He later developed passion for flute and trained under eminent classical flautist VG Karnad in Pune, India.
As a flautist, Siddiqui earned acclaim at both home and abroad. He performed in many countries including France, Switzerland, Malaysia, Pakistan, Iran and Singapore.
In 1999, Siddiqui came into limelight as a singer rendering playback numbers in Humayun Ahmed's film Shraban Megher Din. All six songs, which Siddiqui sang for the film, received huge response. He promoted songs of many folk bards including Ukil Munshi, Chan Mia and others.
He died on November 24, 2017.