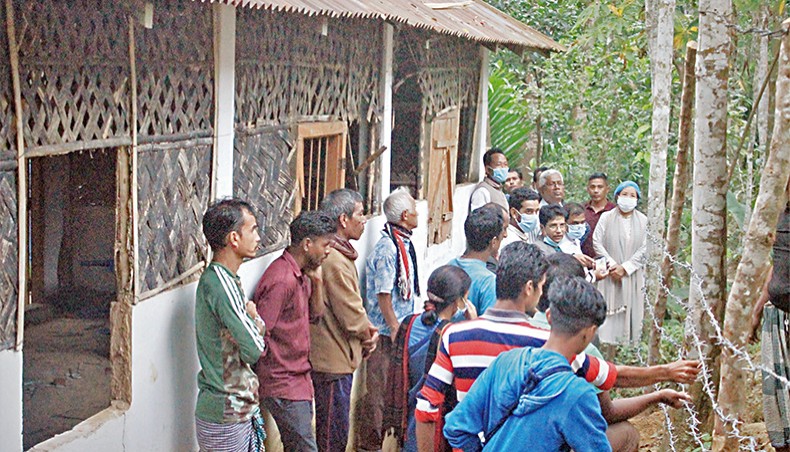 Leaders of the Khasi minority community in Kulaura upazila of Moulvibazar district seek effective steps to ensure safety of their lives and properties from an alleged influential land grabber who has recently occupied their betel-leaf garden in the area.
Mentioning that they are passing their time in serious uncertainty, the leaders said that they had been guarding their betel-leaf gardens, paan jums, during the nights for the last two weeks fearing further attacks on them from the alleged land grabber and his people.
Protecting their properties, especially the betel-leaf gardens, which are the only source of their livelihood, will not be possible anymore if the local administration does not come forward immediately, they said.
They raised the allegations on Sunday afternoon to the representatives of various rights groups and journalists, who were visiting Katabari Paan Jum near Ichhachhara Punji where, they claimed, a church was also ransacked allegedly by Rafik Miah, 55, son of Abdus Sattar of Tattiuli village in Karmadha union under Kulaura upazila.
Talking to New Age, residents of the nearby punjis of Khasi, a small minority group living there traditionally, said that Rafik, a Dubai-returnee, with the help of some 60 local goons attacked the residents of Katabari Punji in the night of September 27 and took the possession of the betel-leaf garden forcibly after beating and chasing out the Khasi residents from the garden.
Katabari Paan Jum is an inheritance of Jasper Amlorong Thet, who has been suffering from cancer for three years and maintaining his living costs, including for his treatment, with the income from only the betel-leaf garden, they said.
'On October 10, Rafik Miah also filed a fabricated case with the district judicial court against Jasper and a number of his neighbours seeking to establish his right over the five-acre Katabari Paan Jum,' Flora Babli Talang, general secretary of Kubraj Antapunji Unnayan Sangatha, an inter-punji social welfare organisation, said.
Flora told the journalists and rights activists that the local administration, in a police-Rapid Action Battalion joint drive, evicted Rafik and his associates from Katabari Paan Jum on November 9.
She said that the administration asked both the owner and the occupiers not to enter the jum and ordered the local union council chairman and members to guard it for next two weeks.
'But Rafik, along with more than 50 people, immediately came back after the administrative officials left the scene and threatened us with life if we want to go to the paan punji,' Flora said, adding that the residents of Khasi villages were passing their days at serious risks of becoming victims of further attack from Rafik and his people.
David Pamthet, only son of Jasper and a class-IX student, on Saturday afternoon told New Age that his father was under treatment in critical condition at a hospital in Dhaka and they were now unable to bear his treatment cost.
Father Joseph Gomes of Lakkipur Christian Missionary at Kulaura said that Rafik had so far grabbed more than 10 paan jums in the area.
Joseph said that the owner of Katabari Paan Jum also filed a case against Rafik.
Mentioning that the attackers even ransacked the Katabari Punji church and vandalised its furniture and walls on September 26, he claimed that he had never seen such a barbaric incident in the area.
Manusher Jonno Foundation senior programme manager Vilina Chakma, Bangladesh Paribesh Andolan's Sylhet district unit general secretary Abdul Karim Kim, Bangladesh Environmental Lawyers Association's Sylhet unit activist Al Amin Sarder, Bangladesh Legal Aid and Services Trust's Sylhet district programme officer Satyajit Kumar Das and Bangladesh Adibasi Forum's student and youth affairs secretary Ripon Babai were present among others at the briefing.
Rafik, who is now staying at his home, declined to make any comment over phone about the allegations brought against him.
Kulaura upazila nirbahi officer ATM Fayez Chowdhury on Sunday said that they kept the matter of Katabari Paan Punji under their strict observation.
'Being a remote forest area, maintaining the law and order situation there under control is also a crucial matter. We would take a decision in this regard one or two more days later after holding a meeting with other stakeholders, including police and local elected representatives,' the UNO said.