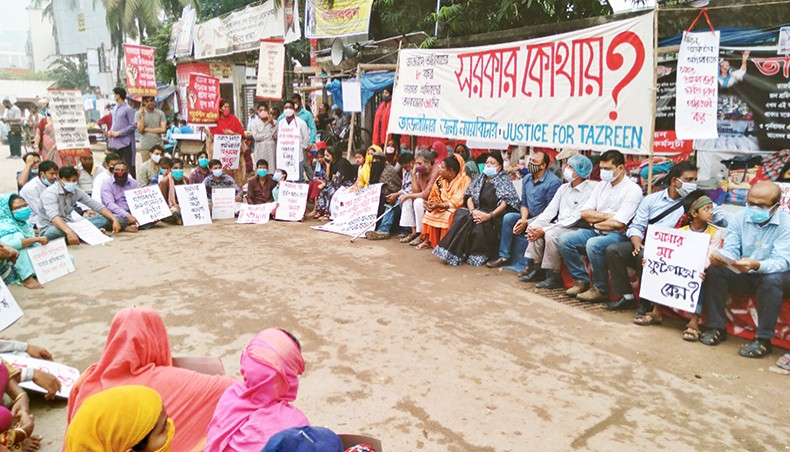 Workers, students and political activists on Friday demanded compensation, rehabilitation and treatment of the workers of Tazreen Fashions factory where a fire incident killed 119 workers and injured over 200 on November 24 in 2012.
In a solidarity protest in front of the National Press Club in Dhaka, they announced a coffin procession for November 24 towards the prime minister's official residence to realise their demands.
They also planned a protest procession towards the ministry of industries for tomorrow.
In the protest rally, in solidarity with the Tazreen workers who were on demonstration for the 64th day in front of the National Press Club, speakers said that though eight years had passed since the fire incident, the injured people did not get compensation other than some token monetary support.
They alleged that there was no progress in trial of the owner of the factory.
Garments Sramik Oikya Forum president Mosharefa Mishu, lawyer Jyotirmoy Barua, Jahangirnagar University teacher
Sayeed Ferdous, Pahari Chhatra Parishad leader Shuvashish Chakma, United Workers Democratic Front leader Jyoti Chakma, Jatiya Mukti Council leader Faizul Hakim Lala, Communist Party of Bangladesh leader Abdullah Al Kafi Ratan, Biplabi
Chhatra Maitri president Iqbal Kabir, Garments Sramik Mukti Andolan president Shabnam Hafiz, among others, spoke at the protest.