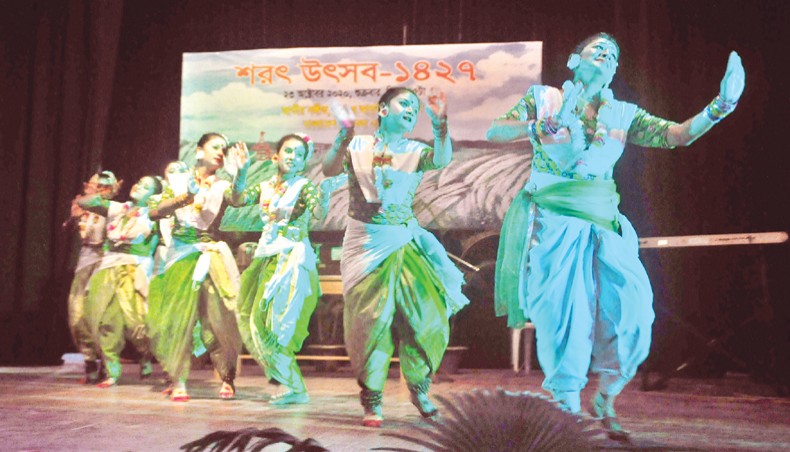 Artistes from different cultural organisations celebrated Sharat, the third season in Bengali calendar, presenting songs, dance recitals, recitation and instrumental recitals at a programme held at the Music and Dance Centre of Bangladesh Shilpakala Academy on Friday.
The programme titled 'Sharat Utsab- 1427' was organised by Satyen Sen Shilpigosthi.
State minister for cultural affairs KM Khalid was present as the chief guest and Sammilita Sangskritik Jote president Ghulam Quddus attended the programme as guest. Satyen Sen Shilpigosthi vice president Nigar Sultana presided over the event.
Satyen Sen Shilpigosthi general secretary Manjar Chowdhury Sweet gave the welcome speech at the programme.
'We have six seasons in our country. We should celebrate each and every season organising cultural festivals. The cultural affairs ministry has been working tirelessly to promote our art and culture and will continue to do so in the coming days,' said KM Khalid.
'We have gathered here today after a long hiatus. We need to promote the six seasons among the younger generations by organising cultural shows,' said Ghulam Quddus.
'We have been organising the festival for the last 12 years at the fine arts faculty of Dhaka University but we decided to organise this year's programme at Bangladesh Shilpakala Academy due to the on-going COVID-19 crisis,' said Manjar Chowdhury Sweet.
Artiste Asit Roy played Esraj to the delight of the audience.
Artistes of Satyen Sen Shilpigosthi entertained the audience rendering songs like Tumi nirmol koro mongol kore and Dekho dekho shuktara ankhi mele chay.
Wrishiz Shilpigosthi artistes sang Aji Bangladesh-er hridoy hote and Eki oporup rupe ma tomay.
Banhishikha artistes rendered Kalo jole kuchla tole dublo sonatan and Shishire shishire sharad akashey.
Swabhumi Lekhak-Shilpi Kendra artistes rendered Shata swapner desh achhe prithibi jora manchitre and Dhana dhanney pushpe bhora.
In solos, Sraboni Guha Roy rendered Jagat o janani kalyanmoyi, Nabanita Jaid Chowdhury sang Bhase akashe shuktara hase, Ratna Sarkar rendered Aaj sharat e alo banshi bajlo and SM Mezba Uddin sang Joy bangla joy bangla bole sob ayre Bangali.
Spandan artistes presented a colourful dance recital synchronised with the song Shishire shishire sharad akashe. The performance was directed by Anik Basu.
Nritakkha artistes presented a dance recital synchronised with the song Aaj dhaner khhete roudra chayay. It was directed by Salma Munni.
Naila Tarannum Kakoli recited the national poet Kazi Nazrul Islam's poem Nama Nama Nama Bangladesh Momo and Nirmalendu Goon's poem Amra natun Kore Bhabchhi.
Iqbal khorshed Jafor recited Rabindranath Tagore's poem Sharat.