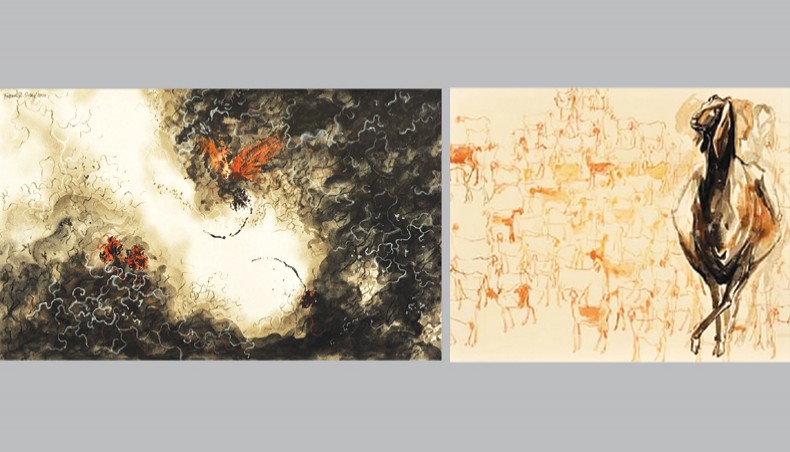 Freelance artists AH Dhali Tomal and Farzana Rahman Bobby have portrayed their thoughts, imaginations and observations through vibrant and colourful canvases displayed in a duet show under way at Gallery Shilpangan in Lalmatia, Dhaka.
The nine-day exhibition titled Thoughts-2 has been organised by Gallery Shilpangan. It features a total of 72 works which are mostly done using mixed media, pen and ink, relief process, brush and ink, etc.
The artworks depict diverse subjects including animals, nature, monsoon, scenic beauty and even COVID-19 outbreak, among others.
'The freelance artists have been going through a tough time since the COVID-19 hit the country in March. There were no exhibitions as all galleries were shut down to contain the spread of the virus. Nowadays, people from all walks of life have resumed work and artists are no exception. The works I have displayed in the show were created between March and September,' AH Dhali Tomal told New Age.
Dhali Tomal's works are mostly about the memories of his childhood days alongside rural landscape, animals, sufferings of people amid the novel coronavirus crisis.
Tomal's mixed media work titled Grazing Ground-6 has been displayed under his animal series. The work portrays a goat and the background comprises different body parts of the animal amid various colours, shapes and forms.
His pandemic series consists of paintings depicting people wearing masks, birds, and shades of human emotions including fear and confusion, while his works displayed under the nature series gives viewers a glimpse into the scenic beauty of rural Bangladesh.
In the work titled Nature-1, the artist has portrayed trees under a sky full of clouds and his work titled Pandemic-5 depicts a woman sleeping wearing a mask.
Farzana Rahman Bobby has paid homage to nature and human emotion through abstract compositions. Her entire oeuvre consists of works done in mixed media.
'All of my works were created between March and September. I have portrayed my feelings and emotions with forms created with different colours. I have also tried to depict how we have been destroying our lung,' Farzana Rahman Bobby told New Age.
A mixed media work by the artist titled Under the Water-4, displayed under water series, presents an underwater world comprised of black, red and blue patches.
A mixed media work titled After the Rain-11, displayed under after rain series, shows an abstract form created using black and blue colours and the background features different shattered forms and shapes.
She has displayed a mixed media work titled Tree Trunk in a Forest-7 under her forest series. The work shows a tree trunk amidst various lines, forms and shapes. She has used the colour red to depict the sorrows of trees and the pain of deforestation.
The exhibition, which commenced on October 18, will remain open till October 24.