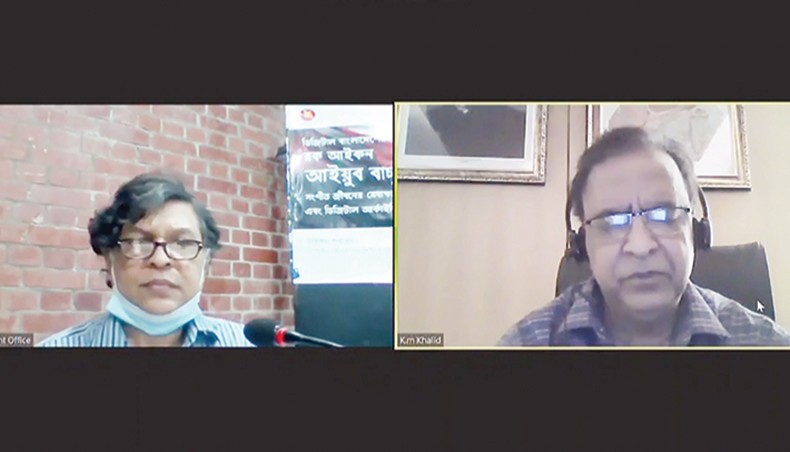 The government has launched digital archive for preserving works of artistes.
A website named Abkitchen.org featuring the late legendary rocker Ayub Bachchu's songs was launched under the initiative through an online programme held in hybrid format at the conference room of Bangladesh Copyright Office on Sunday evening.
Bachchu was the first-ever applicant to the E-Copyright system. He applied for registering his claims of his works right after the establishment of the Online Copyright
Registration System (E-Copyright) on August 23, 2017.
The website features 272 songs, photographs, videos of concerts featuring Ayub Bachchu and his biography. Besides, a YouTube channel featuring Ayub Bachchu's works was also launched.
The programme was streamed live on the official Facebook page of LRB and Bangladesh Copyright Office.
State minister for cultural affairs KM Khalid inaugurated the website and YouTube channel virtually as chief guest. Additional secretary for cultural affairs ministry Sabiha Pervin was present as special guest.
Bangladesh Copyright Office registrar Zafar Raja Chowdhury delivered the welcome speech at the event, which also featured a video message from Ayub Bachchu's daughter Fairuz Safra Ayub.
'Ayub Bachchu was a popular singer of the country. He passed away suddenly. He was not only a singer but also a lyricist and composer who sang and composed many popular songs during his lifetime. His songs depict patriotism, and struggles of people from all walks of life,' said KM Khalid.
'This initiative has been taken to preserve and promote his works among the mass people and upcoming generations. I hope, more singers will apply for registering their works under this initiative in the coming days,' KM Khalid added.
'I want to thank prime minister Sheikh Hasina. I also want to thank the state minister for cultural affairs KM Khalid and Bangladesh Copyright Office registrar Zafar Raja Chowdhury for their cooperation. My father had been fighting for years to establish copyright of artistes. We had to struggle a lot in 2020 for archiving my father's works. I feel relieved because we have succeeded at last,' said Fairuz Safra Ayub in a video message.
'People in Bangladesh can watch his songs and videos free of cost while people living abroad can download an album by paying USD 9.90 and each song will cost USD 1.75. The raised money will be handed over to the family members of the musician,' Zafar Raza Chowdhury told New Age.