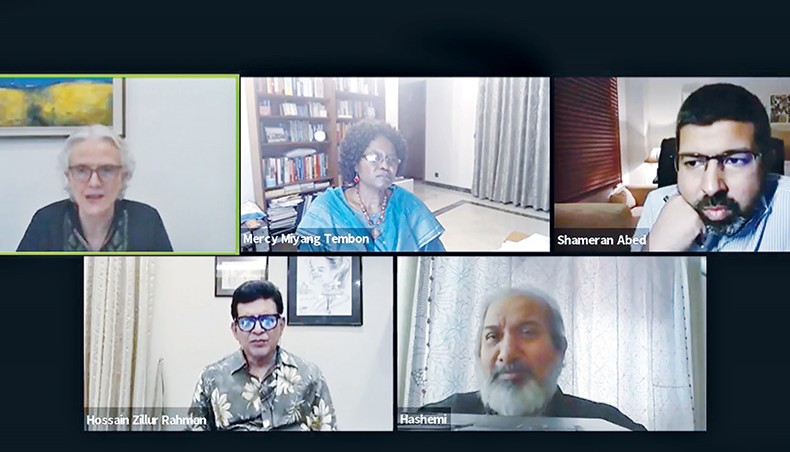 Experts on Saturday stressed the need for bringing in social justice and tolerance as aspects of poverty reduction.
Speaking in a webinar organised by BRAC, marking International Day for the Eradication of Poverty, they also stressed focusing on the right persons who deserve social safety benefit, said a press release.
The International Day for the Eradication of Poverty is annually held on October 17 worldwide. This year, BRAC organised a webinar, titled 'Breaking the barriers of poverty: New priorities in poverty reduction in the backdrop of COVID-19'.
The webinar was attended by Judith Herbertson, development director, Foreign Commonwealth and Development Office of the UK, Bangladesh; Mercy Miyang Tembon, country director, World Bank, Bangladesh and Bhutan; Syed M Hashemi, former senior advisor, The World Bank, and Shameran Abed, senior director, Microfinance and Ultra-Poor Graduation, BRAC and BRAC International.
It was chaired by Hossain Zillur Rahman, former adviser to the caretaker government of Bangladesh, chairperson, BRAC.
Hossain Zillur Rahman said that it was necessary to bring in social justice and tolerance as an aspect of poverty reduction. We have to look beyond good policies and understand policy understanding gaps and our limitations.
Mercy Miyang Tembon from The World Bank, in her discussion, said, 'Bangladesh has a very good policy, what is required is effective implementation on the ground and utilisation of resources, more opportunity has to be created in the economy, and vulnerable people can use social safety nets to build their resilience against disasters.'
Judith Herbertson of FCDO, while complementing Bangladeshi peoples' resilience, mentioned that more focus needs to be on the right targeting social safety net programmes. She emphasized innovation and the government's various development planning during COVID-19 pandemics.
BRAC's fight against poverty and COVID-19 response in the field level was also discussed in this webinar.