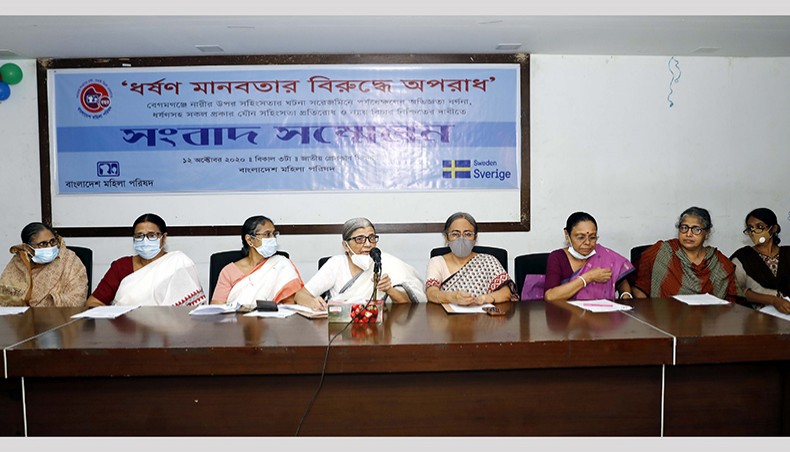 Bangladesh Mahila Parishad on Monday alleged that rapists were getting political and administrative shelter for which the victims and their families were not getting justice.
Parishad leaders demanded formation of a commission to stop rape and violence against women at a press conference at the National Press Club on their experience of visiting Noakhali to meet Begumganj sexual assault victim.
They also demanded strict steps to stop sexual harassment of women and girls, the government's zero tolerance policy towards the offences, execution of sentences against such offenders through speedy trial, punishment of the offenders' patronisers, making elected public representatives accountable for the offences and discussion of the issue in the Jatiya Sangsad as an 'emergency national issue'.
The organisation said that availability of drugs, unrest in the society, misuse of information technology, lack of sensitivity towards women, dishonesty and lack of accountability of the administrative institutions concerned were obstacles to getting justice for victims of rape and sexual harassment.
The organisation's advocacy and lobby director Jana Goshwami read out a written statement.
Mahila Parishad acting president Fauzia Moslem urged the people to stand beside the ongoing anti-rape movement.
Parishad leader Rekha Saha said that they could not meet the Begumganj victim due to non-cooperation of the police as the victim was known to have under the cops' supervision.
Protests against rape and violence against women have spread across the country in the last few days after a video of a group of youths sexually assaulting and torturing the 37-year-old woman at Begumganj went viral on social media on October 4.
Rekha said that the victim's father informed them that the incident came to the light belatedly as the offenders were influential and they gave his family death threat.