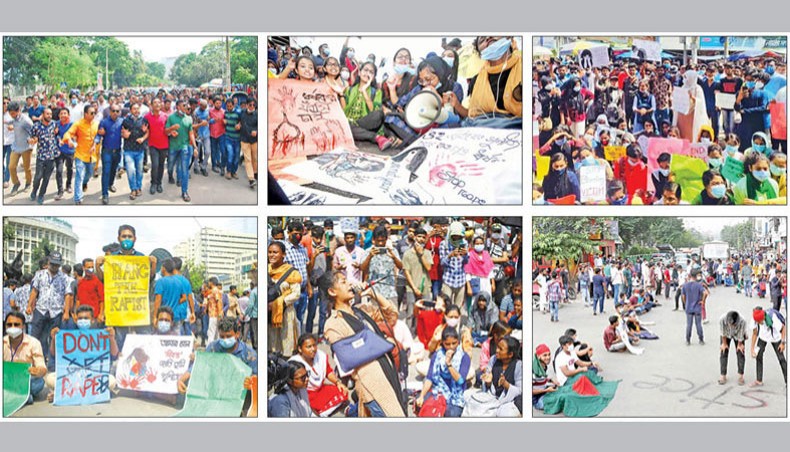 Educationalists, rights activists and jurists on Tuesday said that the incident of rape and violence against women were continuing unabated across the country due to the culture of impunity, low rate of convictions and delay in disposal of the cases, involvement of influential quarters and activists of the ruling party as well as inaction of law enforcement agencies.
They also pointed to the weaknesses in investigation processes, poor evidence management, failure to protect victims and witnesses and women, fearing stigmatisation and not feeling safe reporting the crimes committed against them as reasons for low-rate of convictions.
They mentioned weakened social bond and degradation of social and moral values and lack of good governance in absence of democracy and the prevalence of political and administrative corruption in all spheres of life.
They said that the government only takes action promptly when an incident suddenly comes to public attention and there are widespread protests.
The recent spates of anti-rape protest began following September 25 rape of a woman by confining her husband into a college hostel by a group of activists of ruling Awami League's student organisation Bangladesh Chhatra League at MC College in Sylhet.
The protests flared up further after a video of a 37-year-old woman getting sexually assaulted and tortured by a group of youths in Noakhali went viral on social media on October 4.
'Rape, violence against women and lawlessness continuing in the country as our state and social system is full of irregularities and "might is right" motto is being followed here. The ruling party activists mostly involved in these acts,' said Dhaka University's Bangla department retired professor Abul Quasem Fazlul Huq told New Age.
'Politics is now corrupt, elections nowadays cannot be called elections, democracy hardly exists, corruption grips financial sector. All these are destroying moral values and leading to unabated rape incidents,' he said.
He said that the offenders must be brought to justice and at the same time corruption in politics and administration as well as dominance of the ruling party should be reduced to overcome the situation.
DU psychology professor Md Kamal Uddin suggested that attention should be given to curbing drugs, controlling social media to guard against pornography, activeness of law enforcement agencies and upgrading moral values with positive involvement of the family, society and the state.
According to rights organisation Ain O Salish Kendra data, 975 girls and women were raped and 43 of them were killed after rape and 12 others committed suicide after rape between January and September of the ongoing year.
During the same time, the data shows, 161 girls and women were sexually harassed and 12 of them committed suicide after facing sexual harassment while 12 people, including nine men and three women, were killed for protesting at sexual harassment.
Women rights organisation Naripokkho examined the incidents of reported rape cases in six districts — Jamalpur, Jhenidah, Noakhali, Sirajganj, Joypurhat and Dhaka — between 2011 and 2018 and found that out of 4,372 cases, only five cases saw conviction and the conviction rate in attempted rape, sexual harassment and trafficking cases was nil in the districts during the time.
Amnesty International on Tuesday expressed concerns over Noakhali incidents and demanded that the offenders are brought to book and referred to data from the government's One Stop Crisis Centre that showed that only 3.56 per cent of cases filed under the Prevention of Oppression Against Women and Children Act 2000 Act have resulted in a court judgment and only 0.37 percent of cases have ended in convictions between 2001 and July 2020.
'The crimes of rape and violence against women are fuelled by the perpetrators' perception that they would not be apprehended and tried. This perception stems from their association with the ruling political party and its affiliates,' eminent jurist Shahdeen Malik told New Age.
'Also it is well-known that the law enforcers are usually not keen to apprehend these politically affiliated criminals unless there is a clear direction to do so, as we have seen in the cases of Juba League leaders last year,' he said.
'The overt reliance of law enforcers on extrajudicial killings and extracting forced confession have also eroded their capacity to properly investigate and collect evidence of crimes. Also they often fail to ensure attendance of witnesses during the trial. These two are the main reasons why a trial takes a very long time to conclude and criminals go unpunished in the process,' he said.
Women's rights activist Farida Akhter said that the victims did not venture to make public the incidents as they often face harassment as influentials and ruling party activists are mostly involved in such offences.
Besides, disposal and conviction rates in the cases are much low for which such incidents are recurring in newer forms, she said.
She said that she did not want justice now as it seemed that there would be no justice in such cases. 'That is why, punishment should be ensured for those law enforcement agency personnel and elected people's representatives who failed to ensure safety and security of women,' she said.
Gonoshahsthaya Kendra founder Dr Zafrullah Chowdhury alleged that police was not discharging their duties to ensure safety and security of women and maintain law and order situation, rather they are busy with suppressing dissenting voices.
Bangladesh National Woman Lawyers' Association president advocate Salma Ali suggested that therse cases need to be resolved through speedy trial, ensuring quick disposal of cases and awarding the punishment for the offenders, protecting victims and witnesses, involvement of community, political parties and administration for upholding moral values, proper monitoring of management of cases and an effective National Human Rights Commission for overcoming the situation.
ASK data show that 1,413 girls and women were raped in 2019, 732 in 2018, 818 in 2017, 724 in 2016 and 846 others were raped in 2015.
Data further show that 17 were killed, 15 injured and 249 others were sexually harassed in 2019, 12 killed, 26 injured and 120 others harassed in 2018, 13 killed, 58 injured and 168 manhandled in 2017 and 14 killed, 61 injured and 158 others were harassed in 2016 for protesting against stalking.