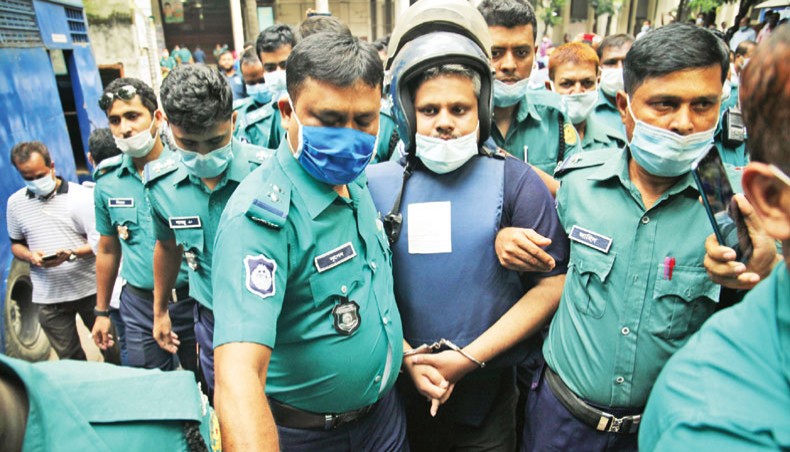 The Dhaka Metropolitan Special Tribuanl-1 on Monday jailed Regent Group chairman Mohammad Shahed, also known as Shahed Karim, for life term in an arms case.
Tribunal judge KM Imrul Kayes pronounced the maiden verdict on Shahed who has been facing 73 cases on charges of forgery and cheating, including COVID-19 test forgery.
In the verdict, pronounced in presence of Shahed in the dock, the judge said that Shahed was given highest punishment prescribed in the law so that it could send a clear message to others as there were so many people like him in the society.
The court also jailed Shahed for seven years for keeping bullets illegally. He will serve both the sentences simultaneously, said additional public prosecutor Tapash Kumar Paul.
Eleven prosecution witnesses have testified against Shahed in the court during the trial and they were corss-examined by the defence lawyers.
The Rapid Action Battalion raided Mirpur and Uttara branches of Regent Hospital on July 6 on charge of COVID-19 test forgery and charging the admitted patients exorbitant fees.
Regent Group head office and both hospitals were sealed off and 16 people, including the chairman, were prosecuted on charge of issuing fake coronavirus test reports.
The battalion arrested Shahed in Satkhira on July 15 when he was reportedly trying to leave the country for India on a boat.
He was remanded in custody of law enforcers for 38 days for interrogation in five cases.
On July 19, a Detective Branch found Shahed's car in front of a house at Sector-11 of Uttara in the capital.
The detectives seized a pistol and a bullet from the car and later filed the arms case under the Arms Act against him.
They also filed another case against Shahed under the Narcotics Control Act.
DB inspector Md Sairul Islam on July 30 submitted the charge sheet in the arms case to the Dhaka Chief Metropolitan Magistrate's Court naming 14 people as prosecution witnesses.
Shahed claimed his innocence before the court during trial.
The Rapid Action Battalion has been investigating some of the major cases against Shahed, including COVID-19 test scam case.
Most of the 73 cases he has been facing are for cheating people.
Public prosecutor Abdullah Abu said that the prosecution successfully presented the case against the accused and the verdict was awarded accordingly.
Defence lawyer Moniruzzaman said, 'We did not get justice and will go to the High Court against the verdict.'
Shahed was also jailed for six months in cheque forgery case in 2010.