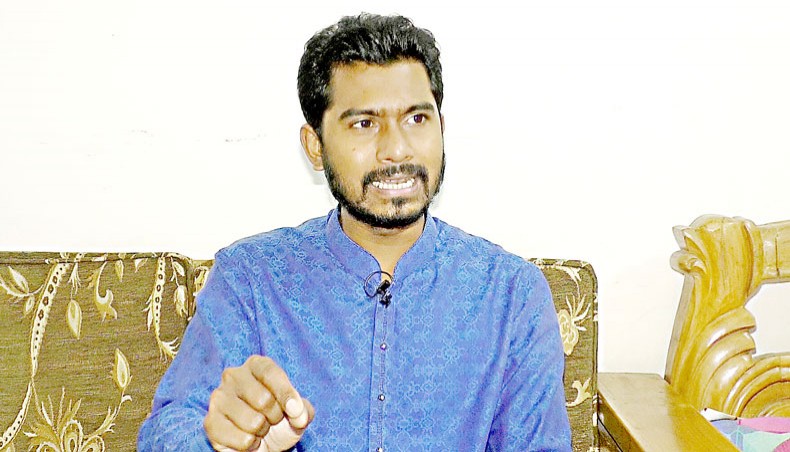 The immediate past Dhaka University Central Students' Union vice-president Nurul Haque Nur, who led the public service quota reforms movement in 2018 and now plans to float a political party, tells New Age in an interview with Tapos Kanti Das on Friday that he wants Bangladesh to be a democratic state
New Age: Two cases have recently lodged against you and you faced an attack and underwent a brief detention. How will you explain this?
Nurul Haque Nur: The plaintiff lodged the cases alleging that she sought justice from me and I wasted time in the name of ensuring justice and I had threatened her not to go ahead with the issue. If she can substantiate her allegations, I will accept them. It is a baseless and politically motivated case meant to harass us. As she is a member of the Bangamata Fazilatunnesa Mujib Hall unit of the ruling party's student organisation, we think that the case may have be lodged backed by ruling party people.
We marched in a procession from the Teacher Student Centre to Shahbagh on Monday. When we were advancing in a group towards Matsya Bhaban, Shahbagh and Ramna police personnel as well as some other people holding sticks, iron rods and knives flanked us from both sides and attacked us near Matsya Bhaban. We think that the incident was planned. We were then taken to the Detective Branch office, then to hospital and back to the Detective Branch office again from where we were released.
The police did not interrogate us in the Detective Branch office. They rather told us that what we were doing was against the government and if we would do it again, we would be in trouble. They asked us to stop us form doing what we are doing.
New Age: You say that all these are politically motivated. Why?
Nurul Haque Nur: You know that an undemocratic and fascist government is now in power and it launches attacks to suppress dissent. It is suppressing lakhs of opposition political activists by attacking them and lodging cases against them so that no mass movement could be organised.
We speak against government irregularities and unjust activities. We have led quota reforms movement since 2018. The government first branded it as an anti-government movement and then it accepted our demands. We have faced the wrath of the government since then.
Besides, leaders of the ruling party's student organisation lost to us in DUCSU elections and their influence on university campuses is waning because of our movement and the victory in the elections.
The government is now trying to suppress us as we are going to form a political party. The cases are politically motivated as the government wants to suppress us as part of the efforts to suppress political opposition. We think that intelligence agencies have a hand in it.
New Age: How many times were you attacked? How many cases do you face?
Nurul Haque Nur: I was attacked 11 times — eight times after being elected DUCSU vice-president. I was implicated in six cases, which include the recent two cases. I was implicated in the case filed for attacks on the vice-chancellor's house which were, in fact, launched by the Chhatra League. I was implicated in another case of snatching ballot boxes in the elections in which I won. I was later attacked by Chhatra League activists and I was implicated in a case of theft. A Chhatra League leader lodged another case against me for hurting religious sentiments. All the cases are baseless and politically motivated. The ruling party men are behind all these cases.
New Age: Did you take any action regarding the allegation of the female student of Dhaka University?
Nurul Haque Nur: The student brought allegations of rape against Chhatra Odhikar Parishad leader Hasan Al Mamun she was in a relationship with. We relieved Mamun of his responsibility and set up a committee to investigate the allegation. The allegations against five others, including me, are vague. We are, however, yet to find out Hasan Al Mamun. We do not know whether he is arrested or if he fell victim to enforced disappearances.
New Age: You and six of your colleagues were briefly detained on September 21 evening and were released on undertaking. What was the undertaking about? Did you write the undertaking?
Nurul Haque Nur: We are yet to figure out why we were picked up, taken to the Detective Branch office and released. I became senseless after we were attacked near Matsya Bhaban. As for undertaking, I know nothing. But my companions, picked up along with me, told me that the Detective Branch had told them that we had been picked up for attacking the police. But no such thing happened. The police gave me a sheet of paper, with a text handwritten, and asked me to sign on the blank portion. I did it. The police told me that my signature was needed so that they could put me in my brother's custody. The police did all of the writing. I did not read it. My other companions told me that they had to give undertaking that they would do nothing that could harm law and order.
New Age: Do you personally know the plaintiff of the two recent cases? What will you say about her allegations?
Nurul Haque Nur: I do not know her personally. I have never met her. But as I was vice-president of the central students' union, a female student phoned me about two and a half months ago and said that she had been in a problem for which she needed my help. She, however, did not tell me anything about the problem. She rather said that she would meet me when she would come to Dhaka. She has never phoned me after that. I do not know whether she came to Dhaka. She claimed that I met her at Nilkhet on June 24 about resolving the problem and that I threatened her. This is totally false.
New Age: What about the formation of your political party? Which kind of response do you get?
Nurul Haque Nur: We emerged through students' movement by forming Bangladesh Chhatra Odhikar Parishad. Later, we organised young people and floated Bangladesh Juba Odhikar Parishad. We, then, organised workers and floated Shramik Odhikar Parishad. We also floated Prabasi Odhikar Parishad, composed of expatriates. We have floated these four fronts. We are now in the process of floating Peshajibi Odhikar Parishad composed of professionals. We had a plan to flout our political party by year-end.
Besides, we are talking to civil society and various national and international agencies. We have talked to some development partners. They are positive about us. Our efforts to float the political party are in final stages. I think that the government has been against us because of such political activities.
We have received huge response. We are successful in setting up the fronts only in two and a half years. We are successful as the existing political parties have failed to fulfil people's expectations. They do not organise mass movement in protest against government misdeeds. But we continue with the movement in the interest of people even after we are attacked. That is why people support us. I think that the support would continue.
New Age: What will be the name of your political party?
Nurul Haque Nur: We are yet to decide the name. Many names have been proposed. As the country witnesses a crisis of democracy, none has established a solid footing for democracy in 50 years after the liberation war and we speak of rights of all the people, the name of the party will include the words 'democracy' and 'rights'.
New Age: What will be the ideology of your political party? What will be your position about two circles led by the two biggest parties — the Awami League and the Bangladesh Nationalist Party?
Nurul Haque Nur: I do not think that the two big political parties have any basic ideals. They are absolutely opportunist political parties. They sometimes speak of secularism or non-communalism, some other time, they speak of nationalism ad yet another time, they speak of socialism only to go to power. They do only what is needed to go to power and to remain in power. They have done so by compromising with left and Islamist parties.
We think that our politics would neither be left nor right. We should take the middle path so that people of different opinions and beliefs can join us. We will give priority to a liberal democratic outlook as followed especially in European countries and in America, human rights, democracy, tolerance of dissenting opinions and women's rights. We do not want to continue with any outdated ideals. We want to accept the need of day. We want an ethical rule of law. The laws now are not implemented ethically. The government has passed the Digital Security Act and uses it to suppress people. We want to give priority to people's rights — not religion, caste, faith or opinion.
New Age: What will be your position about left parties and Islamist organisations?
Nurul Haque Nur: Bangladesh is a Muslim-majority country. There is an influence of Islamic values on politics. Big political parties and even the military dictator HM Ershad wanted to do politics by giving priority to religious values. The Awami League criticised non-political Islamist organisation Hefazat-e-Islam when Hefazat launched a movement against the education policy. But the government compromised with it to remain in power. I think that the people who want to go to power need support of Islamist organisations such as Hefazat-e-Islam. But there should be some criteria of how political parties would take support from them.
We are friends with the leftists. We have a good relation with religion-based organisations. We have enmity with none. We believe that we will face no problem in getting along with them. Left parties and Islamist organisations, I believe, will support the youth political organisation. We have enmity with only the present illegal government that assumed office without voters.
New Age: You spoke of intelligence agencies. Will you specify?
Nurul Haque Nur: I was picked up by the Detective Branch. During the quota reforms movement, the Directorate General of Forces Intelligence and the National Security Intelligence met us. Sometimes, they proposed that we should compromise with the government. Sometimes, they asked us to keep off politics. Sometimes, they threatened us. Thus, they always threaten us to stop us from speaking against the government and against India.
New Age: Do you have anything more to say?
Nurul Haque Nur: The father of the nation Bangabandhu Sheikh Mujibur Rahman was a true patriot. Shaheed president Ziaur Rahman, a freedom fighter, was a patriot. As they did not compromise with foreign forces, they were assassinated by foreign forces. The people who went to power after them compromised with foreign forces and neglected the interest of the country.
I will urge people to stand by us. We want Bangladesh to be a democratic state with an ethical rule of law and rights for all. I urge them to criticise our mistakes and support our good activities. I want them and various international agencies to stand by us in resisting undemocratic forces that want to stop political initiatives of the youth.
Tapos Kanti Das is a senior staff correspondent of New Age.