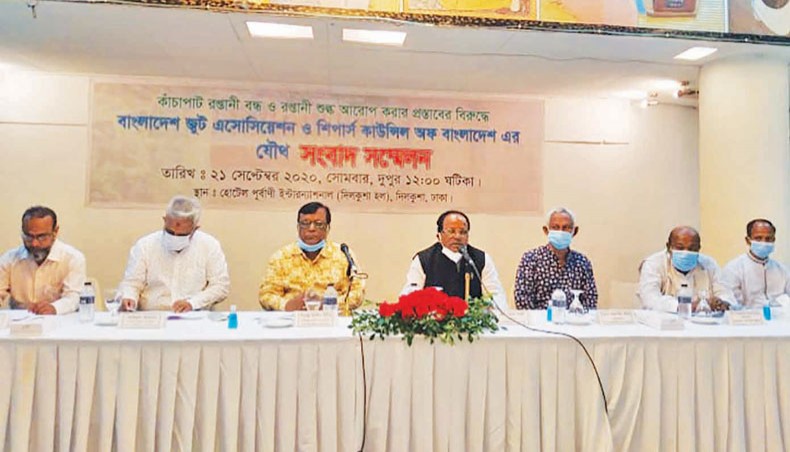 The Bangladesh Jute Association and the Shippers' Council of Bangladesh on Monday said that the government should not impose ban or duty on export of raw jute arguing that any such decision would hurt farmers.
Opposing the recent proposal of jute millers and spinners seeking imposition of export duty on raw jute and export ban on uncut raw jute, BJA and SCB claimed that the proposals were made as part of a conspiracy to destroy the country's jute sector.
The trade bodies made the demands in a joint press briefing held at Hotel Purbani in Dhaka.
Earlier on September 9, the Bangladesh Jute Mills Association and the Bangladesh Jute Spinners' Association demanded imposition of duty at the rate of $250 a tonne on export of raw jute and a ban on export of uncut raw jute to ensure adequate supply of raw materials for local factories.
BJA, members of which are mainly engaged in export of raw jute, and SCB also demanded subsidy on raw jute export and funding from the government-announced stimulus package to support businesses in the wake the coronavirus outbreak.
BJA chairman Sheikh Syed Ali said that ban on export or imposition of export duty would not only affect exporters but would also create severely negative impacts on farmers and workers involved in the sector.
Farmers will not get fair prices for their produce if such decisions are taken and will lose interest in growing jute, he said.
BJA members export the raw jute that remains surplus after meeting domestic demand, he said.
Export of raw jute has already shrunk to 8 lakh to 9 lakh bales from previous levels of up to 30 lakh bales due to imposition of four bans on export since 1984, he added.
Bangladesh will lose further shares of the export market if any such decision is taken again, he added.
SCB chairman Md Rezaul Karim said that there would be no shortage of raw jute for local mills as the additional 13 lakh bales of jute required for state-owned jute mills would now be available for private mills.
As per the estimates of the Department of Jute, the revised target for jute production was set at 84.14 lakh bales considering the impact of floods.
Even if production declines further due to the outbreak, there will be no supply shortage, he said.
He alleged that BJMA and BJSA wanted to create a monopoly in jute business disrupting the export of raw jute.
Every year, they come forward with such proposals whenever farmers got fair prices, he added.
Without fair prices, farmers will not cultivate jute, he said.In that case, where will jute millers and spinners get jute from, he asked.
BJA senior vice-chairman Arzu Rahman Bhuiyan and Bangladesh Jute Growers Samity president Fazlul Hoque Sarker Hannan also spoke at the briefing.
SCB senior vice-chairman Ariful Haque, BJA vice‑chairman Md Kutub Uddin and BJGS secretary Abu Hanif, among others, were present at the event.