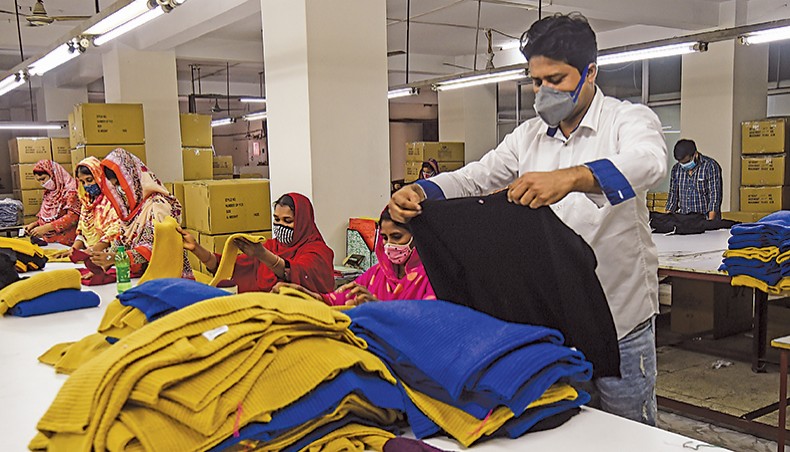 Most female workers in Bangladesh's readymade garment sector are concentrated in low paid jobs and the participation of women in managerial positions has not improved in the sector, said a recent report of the International Labour Organisation.
The study titled 'Understanding the Gender Composition and Experience of Ready-Made Garment (RMG) Workers in Bangladesh' found that the jobs of 97.1 per cent of women workers were concentrated in low wage grade compared to 80.8 per cent of men workers.
There are seven wage grades in the production section in the RMG sector and grade 1 is the highest paid while grade 7 is the lowest.
The report revealed that there were more men than women in higher level positions (grades 1 and 2) in the production section, and far more women than men in lower level positions (grades 3 to 7).
'While 83.8 per cent of women workers surveyed are employed in grades 4 to 7, this is true for only 67.7 per cent of male workers,' the report said.
The report also showed the lower representation of women in managerial and leadership positions saying that Bangladesh could not improve in the area.
The report identified no improvements in enhancing women's representation in managerial and leadership positions in the RMG sector in the past decade.
Citing a report of Better Work, ILO said that men held 95 per cent of the line supervisor positions.
The perceptions of women and men respondents shed light on gender-based stereotypes, discrimination and norms that affect workers' leadership roles, the report said.
'When asked why women "are not interested in becoming supervisors", the "intense workload" involved was highlighted by 67.7 per cent of women respondents and 51.4 per cent of men. Roughly 40 per cent of respondents suggested that women "do not feel qualified" for these roles,' the report read.
It said that 89 per cent of women and 87 per cent of men survey respondents believed that 'men can work faster' than women, and men's 'output is greater' than that of women.
According to the study, 73.7 per cent women respondents than 63.6 per cent men pointed out that men could work at night, while a greater proportion of male respondents noted that men did not face security problems when working or returning home late.
The report showed that 61.7 per cent of men and women workers experienced harassment at work from their supervisors or line managers while 1.6 per cent of female workers faced sexual harassment.
The study said that work in the RMG sector was extremely physically stressful and most women workers did not want to continue working in the sector until they reached the regular age of retirement.
Over 70 per cent of all workers surveyed by the study were 29 years old or younger.
It showed that 25 per cent of male and female workers left jobs because of violence or harassment at the workplace while 26.5 per cent for work stress.
Pregnant workers face severe challenges, and are often pressured into quitting their jobs, the study found.
It also found that the proportion of women workers in the RMG sector declined to 60.5 per cent of total workers in 2018 from 63.4 per cent in 2010. The ILO programme on Improving Working Conditions in the Ready-Made Garment Sector in Bangladesh Phase II, in collaboration with the UN Women Bangladesh, commissioned the study in 2017 while field data collection was undertaken in 2018.