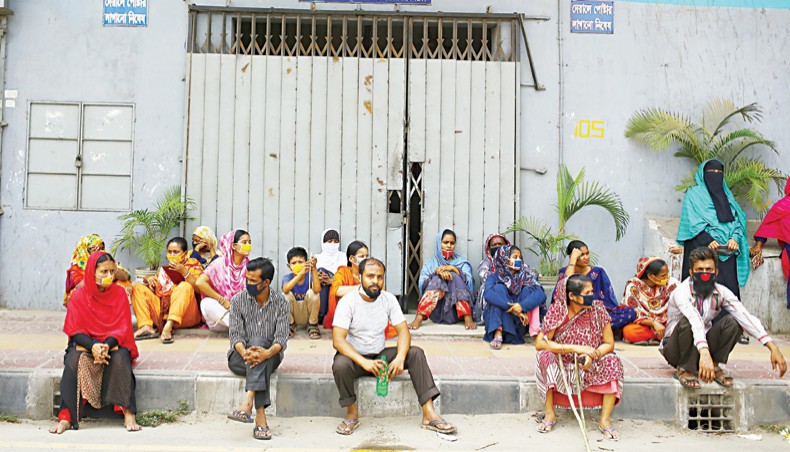 More than 3.24 lakh readymade garment workers have lost their jobs and 1,915 factories, mostly subcontracting ones, have been shut since the coronavirus outbreak began in the country in March this year, according to a Bangladesh Institute of Labour Studies' study report.
The study titled 'COVID-19: Decent Work in Readymade Garment Sector' found that 80 per cent of the workers had no savings while 27 per cent of the workers had reduced their food expenses as monthly wages became irregular during the pandemic.
The BILS on Thursday revealed the study report at a press conference held at the National Press Club in the city.
It said that RMG workers in the country had been struggling for their survival due to frequent retrenchment and factory lay-off amid the coronavirus pandemic.
According to the report, more than 26,000 workers were retrenched from 87 RMG factories during the pandemic.
In many cases, the workers' retrenchment took place without following labour laws and rules, the report said.
Citing a previous study conducted in 2019, the BILS said that 56 per cent of the RMG workers procured essential commodities on credit and 72 per cent had no ability to get proper treatment due to the low wages.
The coronavirus outbreak multiplied the crisis of the workers, it said.
Demanding government assistance for the workers, the study said although the country's export sector got Tk 50,000 crore as stimulus to fight with COVID-19 fallout, the benefit of the package was not transmitted to the workers.
It said that in most cases, the workers involved with trade unions were being retrenched and the applications for the trade union registration were being rejected without valid reasons.
BILS advisory committee member Naymul Ahsan Jewel read out the outcomes of the study at the press conference while BILS vice-presidents Anwar Hossain and Amirul Haque Amin, and IndustyriAll Bangladesh Council secretary general China Rahman, among others, spoke at the event.
Amirul said that factory owners, with the support of the government, were exercising the unilateral power of retrenchment of workers and factory lay-off without following any law but workers had no rights to be united to demand their lawful benefits.
He said that workers were facing three types of risk during the pandemic — risk of life, risk of termination and risk of not getting wages on time.
Amirul alleged that many factories were running their production without complying with the COVID-19 health guidelines.
China Rahman said women workers, especially pregnant ones, had been facing severe problems as factory authorities denied them joining work without giving their job benefits.