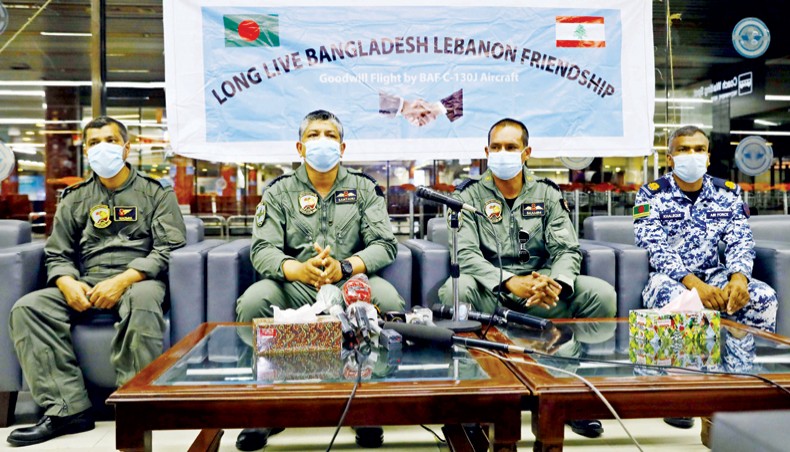 Seventy-one Bangladeshi workers returned home from Lebanon on Wednesday in a C-130J transport aircraft of Bangladesh Air Force that carried humanitarian aid for victims of explosion-ravaged Beirut.
'The aircraft brought back 71 Bangladeshi expatriates from Beirut,' Inter Services Public Relation Directorate said in a press release.
The government sent relief materials to Lebanon on August 9 in a mission consisting of 12 BAF air crew led by Group Captain Santanu Chowdhury.
At least 172 people lost their lives and over 5,000 people of different nationalities were injured in two back-to-back explosions in Beirut sea port on August 5, according to international news agencies.
Five Bangladeshi workers were killed in the incident that also left some 108 Bangladesh nationals, including 21 personnel of Bangladesh Navy, injured in the explosions at the port of the Lebanese capital.
The government sent emergency relief and medical supplies, a physician and a technical team to assess the real scenario of the damaged Bangladesh naval ship as well as to help the affected Bangladeshi expatriate people, local people of Lebanon and members of Bangladesh Navy deployed in UN peacekeeping operations in Beirut.
Around 1.5 lakh Bangladeshis work in Lebanon, according to officials.
A repatriated migrant worker hugs his mother at Hazrat Shahjalal International airport after 71 Bangladeshi workers returned home from Lebanon in a Bangladesh Air Force aircraft on Wednesday. — Sony Ramany