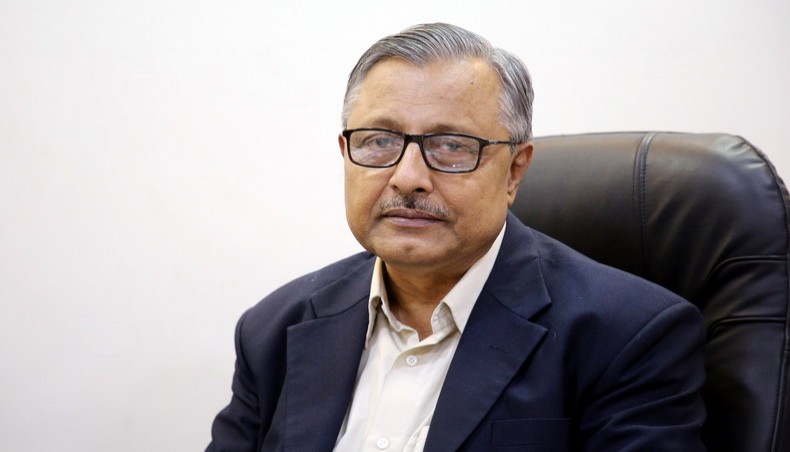 Bangladesh University of Engineering and Technology vice-chancellor Professor Saiful Islam observed that a major degradation of moral and ethical values in the society left an adverse impact on the country's education system.
From his vast experience over the last 44 years in teaching, research, university administrative jobs and collaborations, interaction with foreign universities and educational organisation, Saiful says that the schools, colleges and universities in Bangladesh face some 'strange and undesirable difficulties' what educational institutions in western and many other eastern countries do not face.
There are a lot of undesirable occurrences, influences and troubles that we need to combat to run an educational institution,' he said.
Professor Saiful felt that the root causes of such undesirable occurrences was connected to the degradation of inherent values, ethics and morality of the citizens.
'Actually, we could not properly address the transition of the society with the introduction of globalisation and with the advancement of technologies which gave the opportunities for the mobile, internet connectivity and digital multimedia system,' he added.
To some extent, he said, a lot of people in our country were abusing the blessings of science, technology, communication and digital multimedia. Students were not supposed to waste time in playing video games or chatting on social media which was really damaging to their actual interests.
'Students are to give effort to enhance their depth of knowledge and develop their thinking capability, writing and other skills to build their career, rather than concentrating more on entertainment,' he said.
'Unfortunately, fellow feeling and respect for fellow students are often missing nowadays. Often lack of respect for the teachers is observed, which is not a good sign in any given society,' he said.
Yet, Saiful Islam was not ready to blame the students entirely, rather he said that it was the responsibility of the society to not to produce a future generation that was utterly lacking in morality and ethics.
'We cannot bring a major change to the behavioural pattern of the students at the university level as it should be addressed at schools and homes when they were growing up,' Saiful said.
He doubted whether adequate emphasis was given in helping students gaining true knowledge and for developing sense of ethics and morality at school and college levels.
He added that apparently the aim of education mostly boiled down to only obtaining good marks in the public examinations while the parents' goal was also the same.
Actually, it was to review the school teaching system by addressing these problems seriously, he said.
'Compared to our time, teachers these days appear to be not paying adequate attention to teaching moral values. In our childhood, learning alphabets and basic counting went hand in hand with moral teachings. We had Adarshalipi, which was full of teachings about life and ethics as well as developing a sense of respect for the elderly. These are not taught at the schools these days,' he said.
In a lot of cases, the parents were unable to pay attention to their children to address these issues at homes due to their professional and other engagements, rather they depend mostly on private tutors and coaching centres for ensuring good results of their children, he said.
'You need to teach children to be disciplined, to respect others and to be punctual and attentive to their duties at schools and homes. But, it is not easy to find too many schools where teachers pay adequate attention to ensure that such values in the children are developed,' he says.
Tutorial classes from school to university levels are expected to be useful in improving the knowledge level and skills of the students and indeed keep them engaged in gaining deeper understanding of their subjects.
Saiful Islam believed that in most cases the school management committees could perform better if they were academic-minded.
'The committee members should be guiding the teachers to perform well in teaching and encouraging them to become good teachers, play a helpful role in this regard and create a congenial environment for the teachers and students,' he said.
Liberal grading in public examination is not supposed to bring good results, he said.
'Many children are obtaining good marks in the examinations, but are not learning the skills of writing a good essay or even a write-up as well as giving a good oral presentation as required at higher levels of education and in their professional life. In most cases their knowledge in mathematics, physics, chemistry and other science subjects need significant improvement,' Saiful Islam pointed out.
The professor claimed that BUET had been providing international standard faculties as well as developing international standard laboratories, e-libraries and others facilities for producing world-class engineers.
'We also have collaborations with different famous western and eastern universities and institutes of the world for joint and collaborative research, faculty exchange and postgraduate-level student exchange programmes,' he added.
'Many of our graduates have been doing very well in post-graduate studies at world renowned foreign universities and a large number of them have been working as teachers and engineers with significant reputation in world renowned foreign places,' he claimed.
Regarding the position of the BUET over the past years in international rankings, professor Saiful claimed that those did not reflect the real picture for lack of correspondences.
Since getting appointment as the vice chancellor in June 2016, Saiful claimed, his primary emphasis was on enhancing the image of the university internationally through initiating researches, joint collaborations, and global collaborative research projects with good success.
Saiful also claimed that student enrolment and faculty appointment in BUET were very strict and transparent as well.
Professor Saiful, however, refused to comment on the impact of political influence on higher educational institutes.
'Huge investment of the government in the sector will earn expected result only if appropriate system is put in place. The teachers must be motivated to teach students at the classrooms following attractive methodology,' he said.
Tutorial system is expected to bring fruits for the students and the whole education system.
Professor Saiful Islam also suggested that the government should enhance monitoring capacity of the University Grants Commission, to motivate and facilitate 147 public and private universities in the country to enhance quality.
Want stories like this in your inbox?
Sign up to exclusive daily email
More Stories from Interview