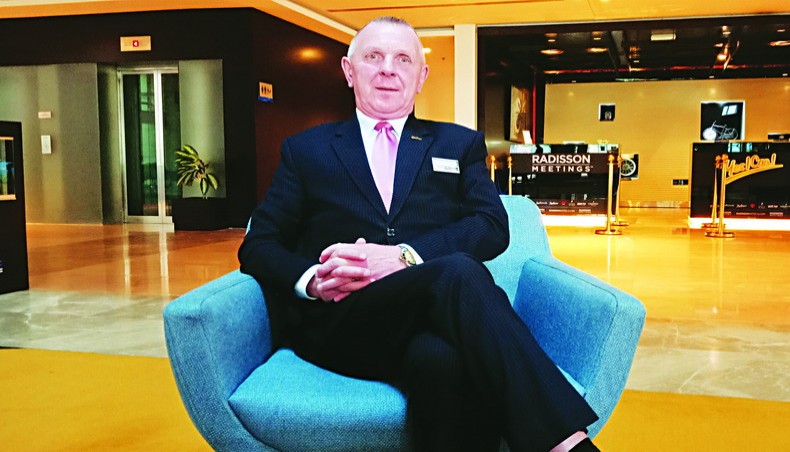 Bangladesh has huge potential in the hospitality industry and it is a sector that has started to boom, said Robin Edwards, general manager of Radisson Blu Chattogram Bay View.
'Chattogram is a business hub because of its proximity to the maritime port. The city is also a major tourist destination and Radisson Blu has been fulfilling the needs of both their corporate clients and the local and foreign tourists,' he added.
He told New Age that Radisson Blu Chattogram Bay View had been providing its quality products and services at affordable prices to the people of Chattogram.
Most of the customers are from domestic market — mainly consisting of Bangladeshi nationals. The hotel also receives many foreign travellers working in garments, export processing zones, port and government projects like Karnaphuli Tunnel, power plant etc.
As the port city's premiere upscale international hotel, the Radisson Blu Chattogram Bay View offers guests an unforgettable lodging experience in Chattogram.
It is the first five-star hotel located in SS Khaled Road, Chattogram. The hotel opened for customers on April 14, 2015 on the first day of Bengali New Year. The hotel, built on around 89,000 square metres of area, was developed by Sena Hotel Development in partnership with Radisson Hotel Group (formerly known as Carlson Rezidor Hotel Group).
Prime Minister Sheikh Hasina inaugurated the hotel on March 1, 2015. It has 241 rooms and suites that offer modern style and thoughtful amenities ranging from 36 to 300 square metres, four international restaurants, three bars, two banquet halls of more than 3,000 square metres, a swimming pool an outdoor tennis court and a spa centre. The hotel boasts convenient location just minutes from the city's business hub and less than 15 kilometres from Shah Amanat International Airport. The hotel was located in the vicinity of MA Aziz Stadium Chattogram.
The hotel's general manager, Robin Edwards said 'Our clients are satisfied with us. Basically customers' satisfaction is all about perception.'
'Guests require clean comfortable bed, quality food, homely feeling, they like to see smiles and, most importantly, responsive staffs. They also like people to remember their names. All these are very simple things. Though many people seem to focus on larger issues, the guests, all they require are these simple things,' he observed.
We maintain brand standards very carefully. In the workplace we don't call them staff rather associates as they all are associates. They are well trained. Training is another important factor to ensure quality service. Ever week the staff members get two hours job training, besides corporate training.
In Bangladesh, there are few tourism institutions and universities that are offering degrees on hospitality and tourism, diplomas, bachelor's and master's degrees affiliated with international universities.
'Unfortunately, jobs in the hospitality sector are not considered high-level jobs. Many people look down on it. After completing education they prefer other sectors. Though Chattogram has a huge potential, it is still difficult to recruit talent resources,' said Robin Edwards.
Awareness was important to improve and to promote this sector. Hospitality sector was the fastest growing sector and unique opportunities were available to grab, said the general manager.
Robin Edwards joined Radisson Blu Chattogram Bay View on August 2016 as its general manager. He had experience working with other international groups, including InterContinental Hotels and Resorts and Starwood Hotels and Resorts for several years across China, Western Asia and the Middle East.
A graduate of the University of Leeds in the UK, Edwards was cross-trained in about every major department — food and beverage, engineering, laundry, finance, hotel administration and room division management.
The hotel's general manager said everybody who worked at the hotel whether he was a doorman, a waiter or a general manager was the ambassador of hospitality.
'I have worked as an expatriate for 32 years. I travelled in many countries. Many people do not understand the most branded and chain hotels. This is not an easy job as hotels are run 24 hours. We do not work 9pm-6pm. This is not like other typical workplaces,' he explained.
'So, by working in this sector skilled officials can travel and learn more about culture. They can also progress in their career. So, if you want to progress in your career of course you need willingness to succeed, determination is must — all these are basic things,' he added.
There were many challenges in operating a world-class hotel like Radisson Blu in a developing city. Everything was growing in Chattogram, including infrastructure — new business destinations and export processing zones, said the manager.
'Few locals feel shy to come. They see Radisson and say it means thousands of taka. But we have products for everybody. We are not looking for profits by today or by tomorrow. We are looking at a long-term investment,' Robin Edwards clarified their business ethos.
'We support local community by holding different social activities. We consider us a family and outside the door there is an an extended family,' said Robin Edwards.
Want stories like this in your inbox?
Sign up to exclusive daily email
More Stories from Interview