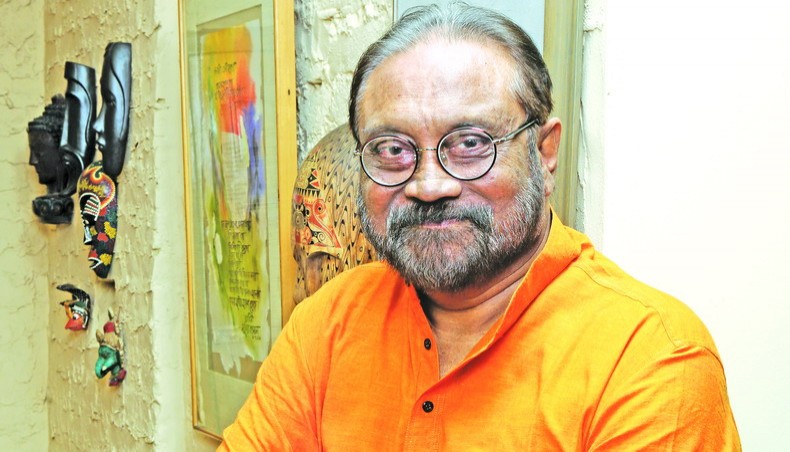 Aly Zaker, the ace thespian who has ruled both the proscenium and TV for more than four decades following independence, sets a sociological lens to the society to analyse its ailments in an interview with Ershad Kamol. The maestro also dwells on today's declining theatre and the problems that assail the current generation.
The Ekushey Padak-winning thespian Aly Zaker observes that the urban theatre in the country is undergoing a stagnancy created by the dearth of talented and dedicated activists.
With the wealth of experience of over four decades in theatre and communication business, Zaker says that the contemporary theatre activists, like other members of the society, hardly have any time or determination to stick to the medium for achieving the goals.
'Most of the youths today are not focused and are not even willing to struggle. They hardly pay attention to tasks that would lay the basis for their future works. They are always looking success using a shortcut. It has happened because of so many contradictions prevailing in the society, like faulty education system and adverse impact of the globalisation,' said Aly Zaker in an interview with New Age recently at his Asiatic 3Sixty office.
A freedom fighter, pioneering theatre activist of the post-liberation era Bangladesh, a renowned actor-director and a successful business executive, Aly Zaker observes that the youths these days want to be famous but do not know the stories of struggles and sacrifices that the nation has undergone to reach the present state.
Yet, the septuagenarian actor-director is disinclined heap accusation on the shoulder of the new generation. Rather he blames his generation for not being able to build a society that they dreamt of during the liberation war and for failing to guide their children the way their parents did.
'Building a discrimination-free secular society that we dreamt of in 1971 is still a far cry. A strong ideological division is prevailing in the society. Over the years, the education system has collapsed. In addition, we failed to address the challenges of the 21st century accordingly. In such a situation, how will the youths develop as an ideal being, as a dedicated actor or a professional?' asks Zaker, a sociology graduate.
'I see a significant fall of values among the youths, which is really alarming. We, the senior citizens, cannot avoid responsibilities for what's going on in the society. And it would not be even fair to blame the youths when we, as parents and guardians, do not pay much attention so that a strong sense of ethics and moral values are developed in them,' he confesses.
Zaker said that after the independence of the country youths with their strong motivation and determination were ready to take any challenge and reflection of the zeal could be seen in every sphere of the society, including the medium of art.
'The liberation war gave us the confidence to take any challenge. When we started practicing theatre in 1972 there was no fund, no producer, no training and even a suitable stage wasn't there at that time. Day after day, with our collective efforts, we gave the urban theatre an institutional shape though the support from the government was very limited. And now, we have modern venues for theatre, but the art form is losing its appeal in the 21st century.
'You can say that theatre in general is facing some common problems across the globe in the 21st century to survive in an atmosphere where TV, internet and various other sources of entertainment are easily accessible. Still, theatre as a medium sustained the assault of the media in the developed countries. But, why we could not keep the momentum going and why we have failed to introduce professionalism even after 48 years after independence are questions that remained unanswered,' Zaker says.
It so happened that not many talented young people came to work in the theatre and those who did, lacked serious engagement, he said adding that there was huge dearth of quality playwrights, directors, actors and technical hands.
'The talented youths give more time to teleplays, films or any other profession. They used theatre just as a jumping pad to become celebrities. You see most of the troupes these days are struggling as star-actors and directors cannot give much time to theatre for they are busy acting in teleplays or in other professions. We had to earn bread and butter through other sources, still theatres did not suffer for that,' Zaker said.
He says that people know him as a noted actor-director and also the group chairman of Asiatic 3Sixty, but hardly know about the struggles he had put up in his youth in the 1960s and 70s.
Aly Zaker was born on November 6, 1944, in Chattogram, during the World War II. Thanks to the job of his public servant father Mohammad Taher, Zaker had to attend schools at different districts such as Feni, Khulna and Kushtia until their family settled at Gendaria, Dhaka in 1954. He then got admitted to St Gregory's High School at class four.
Being the son of a secretary of the provincial government, Zaker's childhood was spent with full joys with his siblings and friends amidst nature — big trees and rivers were vary familiar sites.
His fascination for the nature, developed early in his life, still inspires Zaker, who is now at 74, to spend time and take photographs of people, rivers, trees, birds and insects.
But the joy a vitality of his childhood days faded a bit following the death of his father in 1961. He was just 17 and was studying in Notre Dame College.
'I still remember that my mother had to rent out the ground floor of my parental house at Ganderia for our survival. We, my mother and three of her children, used to live in two rooms,' Zaker remebers.
Life appeared to be more troubling and painful following the death of his mother in 1964 and the death of his elder sister the year after. He was shocked but still struggled to keep himself afloat, trying not to get caught in despair.
'Whenever in trouble, the face of my caring father appears on my mind. He helped me to grow strong and be determined in the face of all odds. Even though, the time was hostile I never lost sight of the horizon. Rather, I concentrated in my study as a student of sociology of Dhaka University. At the same time I was involved with cultural activities and politics with Bangladesh Students' Union,' Aly Zaker recalled.
After obtaining his bachelor degree in social science, he simply land into a void as part of his struggle for survival as he migrated to Karachi in 1966. It was his elder brother who suggested such move.
'The little amount of money that I had on me was spent within a couple of months. I still remember that my brother sent Rs 200 to me and was not in a position to help further,' he said.
At this point, Zaker managed to get a job with the WS Crawfords Limited, a UK based advertising company, now a component of Satchi & Satchi. He returned to Dhaka in 1968 after joining the East Asiatic Advertising Limited as an executive.
'At that stage in my life I was just busy building my career at the advertising company, developing innovative ideas for them. At the same time I was involved in activities of cultural organisation Chhayanaut, though not yet engaged with any theatre troupe,' Zaker said.
As the war of independence began on March 26, 1971, Aly Zaker, a witness of the massacre perpetrated by the Pakistani military at Rajarbagh Police Line, escaped to Kolkata. 'There I met filmmaker Alamgir Kabir who suggested that I joined the Swadhin Bangla Betar Kendra's English news service as a reporter under his leadership. I took the offer and started to cover news and interviews wioth the freedom fighters carrying a tape-recorded. During this period, I met actor-director Mamunur Rashid and some other theatre activists who used to act in awareness generating plays. Gradually, a thirst for acting grew in me and I wished to do theatre if I could return to the independent Bangladesh,' Zaker recalled.
He said that he was assigned to cover an event at Navaron on Jessore Road on December 16, 1971 evening. 'The very moment of that evening still appears live on my mind when an Indian soldier told me "Go home. You are free". I was overwhelmed with joy. I dropped the tape-recorder from my hand and I rolled down to a nearby ditch to express my joy,' Zaker remembered.
The war of independence was so inspirational for Zaker that he never hesitated to take any challenge in the following days in his life. After returning to Dhaka, he took responsibility of Asiatic and also simultaneously started theatre activities — something he wished during the war.
'After the independence, I joined Mamunur Rashid, who formed Aranyak Natya Dal and acted in Munier Chowdhury's Kabar on February 20 and 21 in 1972. Then I got the offer to join Nagorik Natya Sampradaya in June,' said Zaker, the present president of the troupe.
Zaker's professional and cultural career saw a remarkable growth in the 1970s. Besides taking Asiatic to a leading position in the country, he became part of the history of the urban theatre practice in Bangladesh after the independence. In 1978 he married actress Sara Zaker and the couple now have two children.
Zaker and his teammates of Nagorik Natya Sampradaya discovered Mahila Samity Stage as a theatre venue when staging Badal Sarker's Baki Itihash in February, 1973. 'It was also the first ticketed show in the history of Bangladeshi theatre. Other troupes followed suit,' he said.
Between 1972 and 2019, Zaker directed 15 plays and acted in 31 plays for his troupe, including several productions that were box-office hits. They include Swat Manusher Khonje, Kopenik-er Captain, Galileo, Nurul Diner Sarajiban, Macbeth, Achalayatan and Dewan Gazir Kissa. His performances in the role of Nurul Din, Dewan Gazi and Galileo earned huge acclaims.
He also adapted many plays of the popular western dramatists named Moliere, Anton Chekov, William Shakespeare, Bertolt Brecht, Edward Albee and Carl Zuckmayer.
For his contribution to theatre, Zaker won several prestigious awards such as National Academy of Performing Arts award (1977), Sequence Award of Merit in the category of outstanding theater personality (1984) and Ekushey Padak (1999).
He also won Critics' Circle of India Award for outstanding direction and acting (1984) for his seminal contribution to the theatre in Bangladesh.
'As a theatre activist I don't believe in developing a unique Bangladeshi theatre language rather want to keep all the windows open and use local and global forms as per demand,' Aly Zaker said.
He also disagrees with the concept of some of his colleagues who believe that theatre as an art form can instigate a revolution in the society.
'I completely disagree with such concept as to me theatre is nothing but a "total art form" for the intelligent audience. It reflects the realities of the contemporary time and provides food for thought for the viewers. This is the secret behind popularity of our productions. But, it has no power to generate a revolution in the era of digitisation and globalisation,' says the actor.
Faced with the question why theatre activists had staged so many political and social dramas in 1980s during the reign of Ershad, Zaker provided his own interpretation. 'The time was different from the present situation in many ways. One of the reasons was that Ershad was alienated from the people and so creative people felt the need to respond to his regime critically. The state machinery hardly ever interfered in theatre activities back then. But, since the democratic government came into power, it is not only the state machinery but supporters of the parties in power who started placing embargo on artistic protests. So, the situation became more challenging,' he said.
Zaker, who also earned nationwide popularity acting in over 300 teleplays, including drama series such as Aj Rabibar, Bahubrihee, said that he did not act in teleplays for the past few years for many reasons.
'A major cause is fall of the standard of the teleplays. There are some talented directors and actors but there is no talented playwright. Theatre troupes could overcome the problem adapting the world classics in contemporary social milieu which is not possible in case of teleplays.
'The problem emerged in broad scale after giving permission to so many TV channels without evaluating the market strength. We do not have so many talented artistes, producers and advertisements the market requires for sustaining so many channels. As a result, everybody is after cheap entertainment, which is ultimately causing the standard to nosedive. And you cannot blame the ad agencies for this. The ad agencies will sponsor the popular shows in their business interest. But, the TV channels and artistes will have to ensure the quality,' Zaker said.
He blames both the artistes community and TV channels for downgrading of taste and also for viewers addiction to comic programmes presented in distorted language.
'Their language is neither standard Bangla nor authentic representation of any dialect of the existing regional languages. Many actors cannot even speak in standard Bangla. What they speak does not represent any reality,' Zaker said.
He said that he was regularly writing columns for a Bangla daily and had a plan to publish the collection as second volume of his autobiography.
'I'm writing my views on what I, as an individual, observe in the society. But, the readers will get to know about my life and time in our troubled time,' he said.
The possible title of the book would be 'Maddhyanna Oparanna'. The title of the first part of his autobiography featuring his life since childhood till 1972 was 'Sei Orunaday Theke'.
'I know my observations do not matter in the context of a rapidly changing society that is propelled by its internal dynamics, which is dictated by various factors such as socio-political mechanism. Still, it will be an important document on the society, from the perspective of an observer of the theatre, life and society as whole,' he said.
The Ekushey Padak winner Zaker wants to resume his theatre activities soon. He also suggested that the youths shoud take their jobs seriously and with strong motivation to take Bangladeshi theatre one step ahead.
But, the society and the state have to be supportive to the future generation. He also requested the government to build more theatre venues at different corners of Dhaka.
Photos courtesy of Aly Zaker
Want stories like this in your inbox?
Sign up to exclusive daily email
More Stories from Timeout on Friday