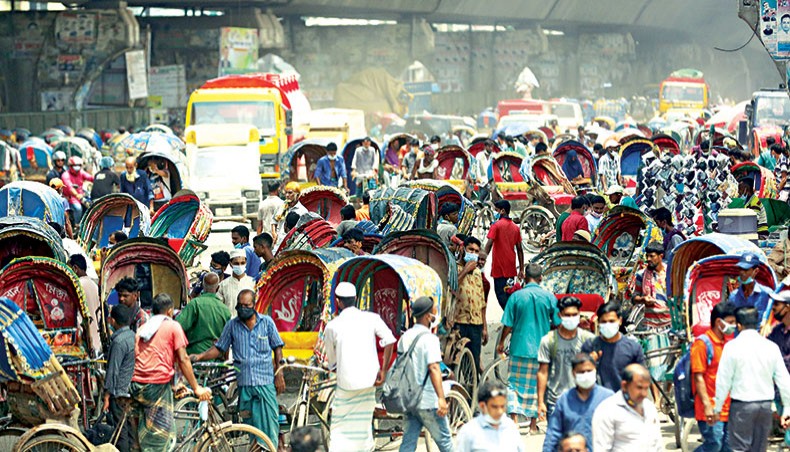 People's movement outdoors without emergency needs rose in Dhaka and elsewhere in the country on Monday, the fourth day of the nationwide 'stricter restrictions' on public movement and businesses to rein in Covid infections.
Many Dhaka Metropolitan Police check-posts were seen questioning people and checking vehicle documents, who came out in the city on the day.
Meanwhile, Eid travellers have continued to return from villages to the capital city after the festival on July 21 using ferries, autorickshaws, microbuses, cars and also on foot defying the curbs.
DMP officials at various check-posts in the city said that people did not want to stay indoors and ventured out without any emergency needs, with the number of such people rising by the day.
They said that a large number of people, however, came outside to receive Covid vaccine and to go to hospitals on the day.
At the Shahbagh crossing, DMP Ramna Division additional deputy commissioner Harun-or-Rashid told New Age that they had been operating the check-post there since 6:00am and found many people on movement who could not offer any valid reason for being outdoors amid the restrictions.
'It is sad that many people came out of home in private vehicles to meet their relatives. We also found some contractors roaming on streets with logos of government agencies while they were not working on any project of the relevant departments — we call it cheating,' Harun added.
Bangladesh Army Major Md Harun-Ur-Rashid was seen checking transports as part of a Dhaka district administration mobile court in front of Tokyo Square Shopping Mall at Mohammadpur in the capital.
He said that a good number of people ventured out of home unnecessarily and such outdoor movement was on the rise in comparison with the past three days.
A large number of people also came out of their houses to receive Covid jabs, to go to hospitals and on other emergency purposes, he said.
Many people were seen on main roads and in alleys of different areas of the city, including Kakrail, Segunbagicha, Motijheel, Arambagh, Paltan, Azimpur, Shahbagh, Dhanmondi, Elephant Road, Katabon, Mohammadpur, Adabor, Shyamoli, Asad Gate, Farmgate and the Dhaka University campus.
People were also found mingling and gossiping and moving from one place to another without wearing mask.
The Dhaka Metropolitan Police said that they had arrested 566 people in the capital on Monday for violating restrictions.
Several mobile courts, aided by DMP personnel, fined 164 people Tk 1,26,200 for flouting Covid curbs while the DMP traffic department fined Tk 10,21,000 from 443 vehicles for violations of restrictions, according to a DMP press release.
A total of 1,939 people have so far been arrested in the capital as they violated restrictions.
On Thursday state minister for public administration Farhad Hossain told journalists that the restrictions from July 23 to August 5 would be way stricter than those put in place earlier.
On Monday the country recorded the highest Covid deaths and infections, with 247 people dying from the disease and 15,192 others contracting the disease in the 24-hour period till Monday morning, according to a health agency release.
The New Age correspondent in Munshiganj reported that movement of vehicles and passengers continued on the Shimulia–Banglabazar ferry route on Monday.
However, the pressure of both passengers and vehicles was considerably less on the day compared with the previous days, he added.
Besides, the pressure of passengers and vehicles travelling to Dhaka from the Banglabazar ferry terminal decreased as the day progressed, he further said.
Bangladesh Inland Water Transport Corporation Shimulia Terminal manager (commerce) Md Faisal said that there were currently seven ferries plying the route and there were few vehicles or passengers waiting at the terminal to cross the river.
He mentioned that people had to wait longer at the Shimulia terminal for vehicles than at Banglabazar terminal, adding that the ferries coming from Banglabazar carried many passengers and small vehicles.
The New Age correspondent in Manikganj reported on the day that people were returning to Dhaka through the Dhaka–Aricha highway dodging police surveillance.
He said that the number of Dhaka-bound people on the route increased on Monday while they paid several times higher fare to autorickshaws, pickups and motorcycles.
When they saw check-posts they started walking to dodge the police.
The Cumilla New Age correspondent reported that people were going from one place to another on the Dhaka–Chattogram Highway on the day by pickups, microbuses and CNG-powered autorickshaws as an alternative to long-distance buses on the Cumilla section.
The government on July 13 issued a 23-point order prescribing fresh Covid restrictions for 14 days from July 23 to August 5, closing all government, semi-government, autonomous and private offices except emergency services and slapping travel curbs on road, water, rail and domestic airways to contain the coronavirus outbreak.
Shopping malls, markets, tourism centres, resorts and community and recreation centres are also to remain closed as part of the fresh curbs.
Want stories like this in your inbox?
Sign up to exclusive daily email
More Stories from Country