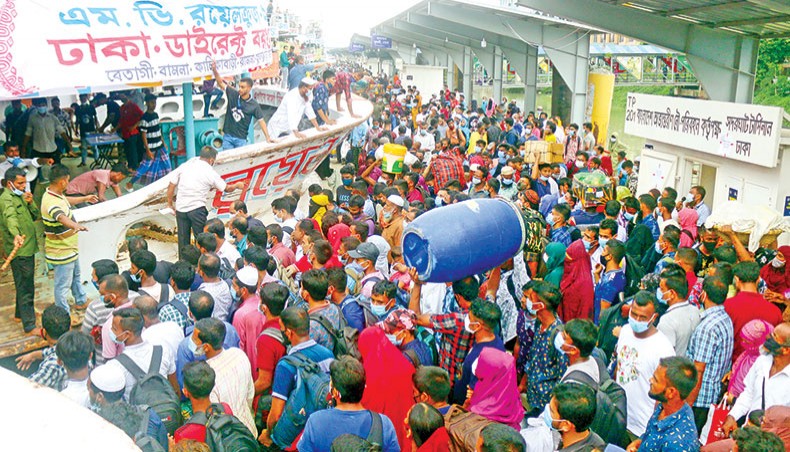 PEOPLE have a general tendency to deny the truth if it is bitter. But they do not realise that accepting the truth immediately may make the process of recovery fast. Such a tendency is observed mostly when a disaster strikes. Once upon a time, people used to ignore warning signals for cyclones and preferred to wait until they perceived a gloomy sky by themselves. This ultimately brought an extremely bad fate for them in most of the cases. However, people gradually became aware of signals and started trusting weather signals. Now, hardly any life is lost when a cyclone strikes.
Denial of a similar nature has been noticed in casse of biological disaster, Covid-19. Initially, people, irrespective of being educated and uneducated, denied the existence of such a deadly virus. Gradually, a few people became aware of it and started following the guidelines of the World Health Organisation. But it is still highly challenging for the authority to make people understand the importance of wearing masks. Very recently, people have started believing in the existence of such a virus when the Delta variant has almost covered every corner of the country. The rate of infection is now 30 per cent on an average and the death rate is high too.
Many people are now affected by Covid-19 and symptoms are manifested in one way or another. But people with minimum symptoms do not want to accept their sickness and are, therefore, not interested in maintaining isolation. Their unwillingness to accept the sickness and to be in isolation will certainly put the entire nation into a serious condition and the biggest disaster lies in this attitude of denial. According to the sick role theory of Talcott Parsons, two codes of conduct are associated with the sick role — rights and responsibilities. People who are ill have the right to play the sick role once they are ill. The person has the right to seek care from others; and at the same time, people who are ill have the responsibility to expedite the process of recovery through seeking proper treatment. However, both these codes are being violated in cases of Covid-10 for several reasons.
According to Parsons, people who are ill are socially considered a deviant as they are unable to perform assigned responsibilities. Therefore, there is a general tendency to deny the sickness. In the case of Covid-19, the situation is even worse. Social stigma is associated with the disease. The affected people are, therefore, perceived as criminals for not being able to protect themselves from being affected. Moreover, the people are blamed for spreading the virus among others if anybody is suspected to be infected by them. As a result, people have a general tendency to hide the information initially.
In the case of poor people, whose livelihood depends on the daily income, they will never play the sick role as playing the sick role is a threat to their survival.
Mothers are not culturally expected to be sick. A general tendency of all mothers is to hide personal sickness and to continue child-rearing activities. If they express sickness, the whole family will be in trouble. Considering the family responsibilities, most of the mothers initially deny their sickness and ultimately endanger the whole family including the children. Besides, members of the family do not give importance to the illness of female members as most of the females have some chronic sickness such as headache or body ache. In women, fluctuating hormone levels are a major contributing factor to chronic headache and menstrual migraines. Hormone levels change during the menstrual cycle, pregnancy, and menopause and are also affected by oral contraceptives. Because of these reasons, in case of serious sickness, their sick roles are ignored by members of the family which might be life-threatening to them if the treatment is delayed in case of deadly Covid-10.
Male members of the household consider themselves the strongest, bold and confident. Initial fever or a bit of coughing is not brought under serious consideration. They sneeze or cough in front of others denying their symptoms. They ignore measuring their temperature and show little interest in playing the sick role because of job responsibilities. Sometimes people assigned with important jobs think themselves indispensable for those tasks and do not initially disclose their Covid symptoms, ultimately endangering colleagues and associates.
Last but not least, this category of people has an ego problem with Covid-19. They do not want to accept the existence of Covid-19 and initially stay in a denial stage. They try to fight naturally with Covid-19 and strongly believe that there is no scientific treatment of Covid-19. They initially rely on natural healing and herbal treatment.
In all these cases, people initially stay in a denial state and do not want to accept the reality. When the situation turns bad, the treatment is delayed, the lung is severely infected and the air seems heavier and death becomes the ultimate destination. Covid-19 is a deadly disease and shows no mercy. Once it infects people, it strikes with its fullest energy and capitalises every weakness of an individual's body. So, it is wise not hesitate to play the sick role immediately. It is wise to play the sick role immediately as soon as Covid symptoms develop, go into isolation and take a break from all important tasks and, above all, seek basic treatment.
Dr Farhana Zaman is an associate professor of sociology, Jagannath University.
Want stories like this in your inbox?
Sign up to exclusive daily email
More Stories from Opinion