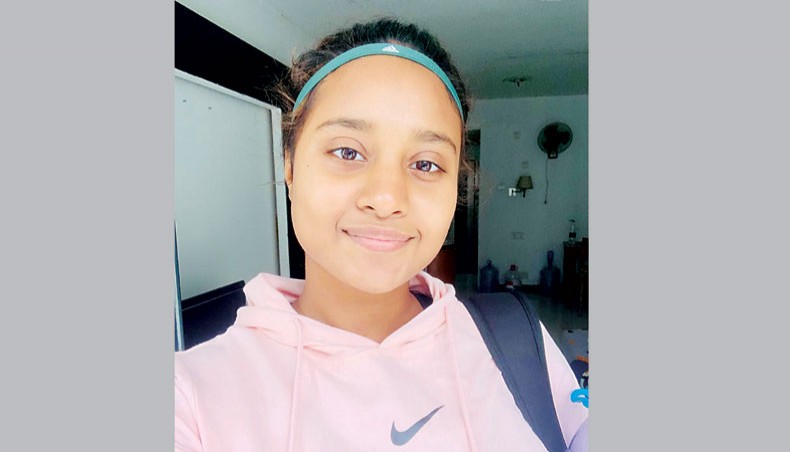 The conservative culture in Bangladesh is holding back female tennis players from taking the game professionally, thinks Laxme Shafena Sha, a Bangladeshi tennis player who is working in China as a coach.
Laxme, a 22-year-old tennis player who completed her 12th grade from the Bangladesh Krira Shikkha Protishtan in 2018, has been working at the Gallop Tennis Academy in Guangzhou as a coach since 2019.
'The conservative mindset of our society and everyone's fixation on the female tennis player's dress code demotivates us from pursuing tennis as a career. People in our country stare at our outfits rather than looking at our skills in the games. Unfortunately, they talk nonsense,' Laxme told New Age.
She is the only female Bangladeshi coach in the academy and overall the second female tennis player from Bangladesh to pursue a career in coaching in China after Afrana Islam Prity, who worked in the country for a year starting from September 2019.
The girl from Khulna fell in love with tennis at an early age and her father Mohammad Shahin inspired her to pursue tennis as a profession.
Laxme took part in the ITF Junior Tennis Championships in 2017 and 2016 and also in some other age-level domestic competitions.
But after realising that she had no future as a tennis player in Bangladesh, she turned her focus to becoming a coach.
'I had the aim to achieve something as a professional player but had to change my mind as I saw no real prospect in tennis in Bangladesh, especially for women,' said Laxme.
Laxme was also unabashed in her views on how the country's Tennis federation is being run and said that the players don't have the opportunity to train around the year, which is paramount for someone to reach the international standard.
'If I look back at the last three years, tennis is in an abysmal state. The players have no future as there were no major tournaments organised by the Bangladesh Tennis Federation in this period,' Laxme said.
'Practicing only before international competitions will never be enough to achieve international standards. I have no idea about what our federation's organisers are thinking, but I hope they will seriously look into this matter,' she added.
The country's tennis was in a standstill on the tournament organising front since the ITF Junior Tennis Championships in November 2019 but ended the long sabbatical by organising the tennis event of the 9th Bangabandhu Bangladesh Games in April this year.
In Guangzhou, Laxme works around seven hours in two shifts each day with age-level players, ranging from Under-8 to Under-16, and nurtures around 60 budding players of different batches.
She feels sorry for the catcalling aspiring female tennis players have to go through in Bangladesh and compares it with the situation in China, where the players' attire is never an issue.
'Choosing to play tennis as an adult after completing school is considered a bad thing for females in our society. But that mentality is absent in China.
'The nonsensical comments from neighbours' and surroundings about the dress, embarrasses the girls and upsets their guardians. They feel degraded and in the end, let go of their tennis dreams,' Laxme shared her observation.
Laxme has found a comfortable working environment in Guangzhou, where the Covid-19 infection rate is almost zero, and said that the only thing she is judged upon there is her skill.
'The working environment is really nice here. Only skill can keep someone's job safe…Other Bangladeshi female coaches also can pursue a career in China,' she added.
But Laxme has the pressure of outperforming the available local coaches at her academy and the other 30 academies in the city.
'I need to perform better than the available local coaches. That's the only everyday challenge,' she said.
She is also willing to serve the country as a coach in the future if she gets a suitable working environment.
'I wish to serve the country as a coach in future…Our budding players are amazing, they have the ability and want to become professionals. We need to provide them more training each day at the grooming level.'
Want stories like this in your inbox?
Sign up to exclusive daily email