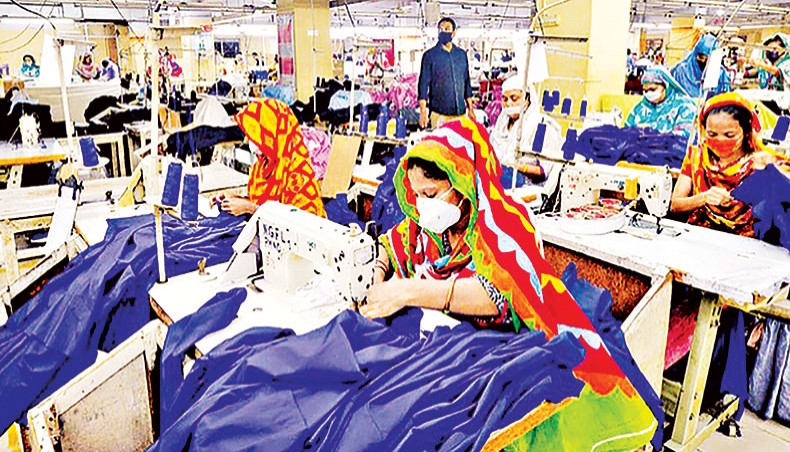 Different labour rights groups have urged the government to bring the readymade garment workers under vaccination programme on a priority basis as the workers are engaged in production amid the surge of Covid-19 infection and death in the country.
The government has imposed strict restrictions on movement across the country allowing production in readymade garment factories but there was no initiative from the government and factory owners to bring the workers under the Covid-19 vaccination programme.
Labour leaders alleged that RMG workers were forced to work with high risk of infection as health safety guidelines were not implemented in many factories and may were walking a long way to join work due to lack of transports.
The Bangladesh Garment Manufacturers and Exporters Association, however, asked its members to register their respective workers aged 35 years and more through government official web site or Surokkha App for getting vaccinated.
Bangladesh Revolutionary Garments Workers Federation president Salahuddin Sopon and general secretary Papia Akter in a joint statement demanded immediate vaccine for all garment workers on a priority basis.
They alleged that the government and BGMEA and BKMEA were doing injustice with 4 million of workers during the lockdown.
The BRGWF said that it was not possible to implement strict lockdown keeping apparel factories open.
The labour rights body demanded 70 per cent of monthly wages of workers as risk allowance and Tk 200 as transport allowance for each worker in case of failure of factories in providing transport during the lockdown.
Bangladesh OSK Garments and Textile Workers Federation in a separate statement demanded Covid-19 vaccine for workers immediately and not to terminate any worker amid the pandemic.
Bangladesh Garment Shramik Sanghati demanded transport facility with proper health safety, field hospital and vaccination programme for the RMG workers to protect them from Covid-19 infection.
The labour rights group said that the export earnings increased by 15 per cent in last fiscal but factory owners were not willing to spent for the safety of workers amid the pandemic.
Earlier, BGMEA in a letter to the health ministry on July 5 requested bringing the garment workers under the Covid-19 vaccination programme as priority basis considering them front liners.
Want stories like this in your inbox?
Sign up to exclusive daily email
More Stories from Apparel