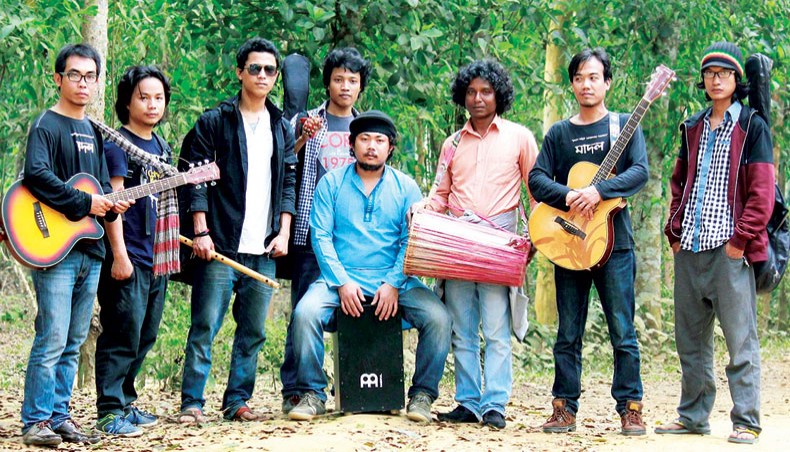 Vocalist of ethnic minority band Madal, Sham Sagor Mankin, said that he along with his fellow musicians strive to give voice to the people on the margin and ethnic minority communities through protest songs.
Madal began its journey in 2009 as a cultural organisation and emerged as a band in 2013.
The band's current line-up comprises Sham Sagor Mankin on vocal, Antony Rema on drum and kajon, Antar Sku on bass guitar, Horendranath Singh on madal and percussion, Jemson Amlai, U Sway Sing Marma, and Riton Chakma on guitar. Joel Chakma is the band's manager and photographer.
'Madal began its journey as a cultural organisation in 2009. Back then, we were studying at Rajshahi University and we were associated with cultural activism. Madal emerged as a band in 2013,' Sham Sagor Mankin told New Age.
'Madal as a band was formed with a certain ideal in mind. We strove to become the voice of ethnic minority communities as well as other oppressed people. The band is still a platform in progress and what is advantageous for us is that we criticise our own band's activities,' said Sagor and added, 'Though the contents of our songs were mostly about the struggles of the ethnic minority communities but we have gradually widened our horizon by including many other subject matters.'
'In the last couple of years, we have been trying to tell the stories of oppression regardless of the identity of the oppressed,' he said.
The band is known for its songs namely Karnaphulir Kanna, Manush Hoye Bachte Piren Jan Diyeche, Pahari Konna, Aami Adibashi, Madal Baje Re, Mukti Chai and others.
The song Karnaphulir Kanna portrays the plights of the ethnic minority communities that were displaced from their locale due to the flooding of their ancestral lands that occurred after the construction of the Kaptai Dam. Besides, the song Manush Hoye Bachte Piren Jan Diyeche depicts the death of ethnic minority rights activist Piren Snal who was killed in police firing in Madhupur in 2004 during a protest against the establishment of an eco-park.
'Madal writes, composes and performs songs highlighting the band members' connection with the people and their land while telling the stories how people are being exploited. We sing songs in Bangla because our primary goal is to present the stories of resistance, unheard sorrows and sufferings of the ethnic minority people to a larger audience,' said Sagor.
Though Madal has successfully stepped into its 12th year, the band is yet to release any albums. In this regard, Sagor said, 'There are certainly some financial issues. Besides, we do not make music from a commercial point of view but from the perspective of activism. We have plans to celebrate our 12th anniversary by the end of this year and release our first album but we are not sure whether we will be able to follow through as the Covid situation is not improving. We are determined to continue our journey, come whatever may.'
Want stories like this in your inbox?
Sign up to exclusive daily email