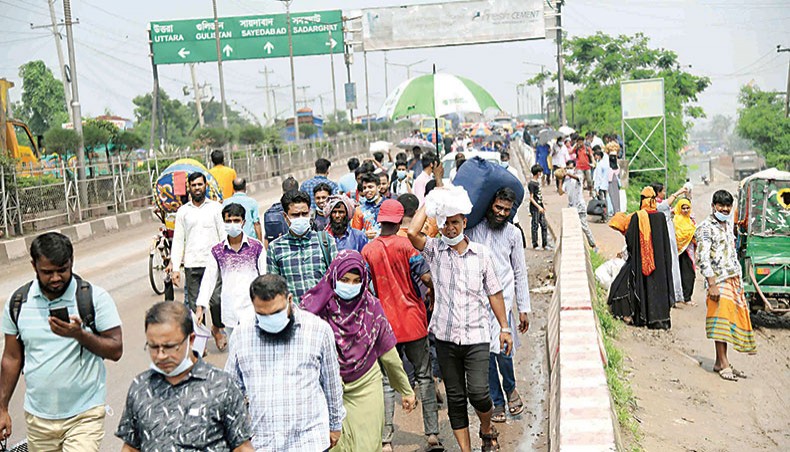 People in seven districts around Dhaka continued to suffer to go to their workplaces for the third day on Thursday as the government restrictions to curb Covid infections only remained effective on public transport with offices and factories remaining open.
Many people in districts like Gazipur and Narayanganj who travel to Dhaka to join workplaces also faced increased sufferings on Wednesday for the absence of inter-district buses and trains and for high fares of three-wheelers operating locally.
Besides, people in general continued to violate the restrictions imposed on public movement and activities in the seven districts due to a lax monitoring.
Many people were seen not maintaining social distancing and wearing masks on Wednesday.
When the restrictions were imposed on Tuesday, the road transport and bridges and the shipping ministries suspended operation of public transport, including buses, launches, speedboats and trawlers, from and through the districts, aiming at isolating Dhaka from the rest of the country.
The Bangladesh Railway also suspended all passenger train services on the Dhaka route on Tuesday.
New Age correspondent in Gazipur reported that the local police set up check-posts at 12 points on the highways crossing the city and not allowed any vehicles under the purview of the movement restrictions.
As a result, office goers faced troubles for a lack of transports and many apparel workers were seen going to factories on foot in the morning.
Many people were found moving from one place to another without wearing masks.
District civil surgeon Khairuzzaman said that 60 cases of Covid-19 were detected in 24 hours ending at 8:00am on Thursday in the district, raising the total number of cases there to 12,096.
Salna highway police officer-in-charge Mir Golam Faruk said that they were not allowing any vehicles, including buses, to enter Dhaka city.
Commuters travelling between Dhaka and Narayanganj also suffered for the absence of inter-district buses and trains.
Many had to reach workplaces by different modes of transport, including CNG-run three-wheelers, New Age correspondent in Narayanganj reported.
Sadar upazila nirbahi officer Arifa Zahura was compelled to allow trawlers to ferry passengers across the River Shitalakhya amid public pressure hours after the authorities had suspended trawler movement.
Narayanganj deputy commissioner Mustain Billah said that buses would not be allowed to ply the roads in the district as long as the restrictions remained in force.
New Age correspondent in Manikganj reported that the police set up check-posts in Barbaria and Dholla areas on the Dhaka-Aricha highway to prevent transports, except goods-laden vehicles, to go out of and enter the district.
In the district town, shops and shopping malls remained closed.
Executive magistrates and police personnel continued their drives at bus terminal areas.
Many people came to bus stands defying the restrictions but they left after waiting for a while as no buses started from the bus stands on the day.
Officials of the Bangladesh Inland Water Transport Corporation said that 15 ferries carried emergency and goods-laden vehicles through the Paturia-Daulatdia and Aricha-Kazirhat routes on the day while no launches were allowed to operate for the third consecutive day.
Earlier on Monday, the Cabinet Division in an order said that all public activities in general, including public movement, in the districts of Manikganj, Narayanganj, Munshiganj, Gazipur, Madaripur, Rajbari and Gopalganj would remain banned from 6:00am on June 22 to June 30 midnight considering the Covid situation.
The capital has therefore been isolated from the rest of the country as movements of inter-district buses and trains and launches from Dhaka city have been suspended for the period.
The government on June 16 again extended the countrywide restrictions on public movement and activities for the 10th time for a month till July 15 amid widespread violations of the restrictions in Dhaka as elsewhere in the country.
All government, semi-government, autonomous and non-government offices, banks and financial institutions are allowed to keep open, maintaining health rules.
Want stories like this in your inbox?
Sign up to exclusive daily email
More Stories from Country