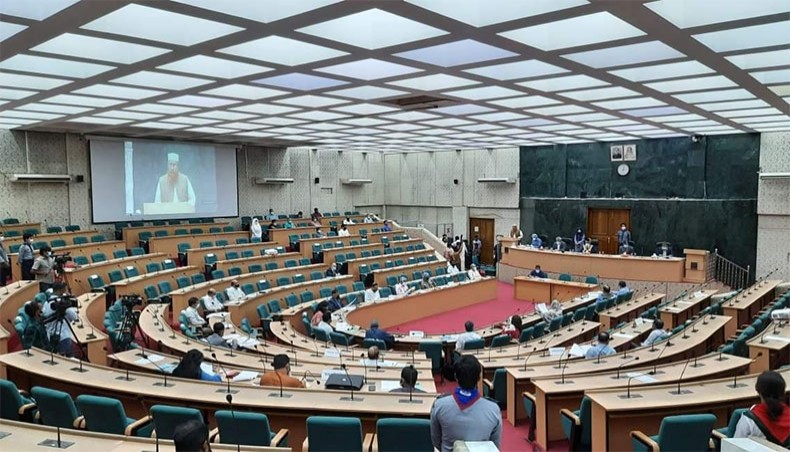 Dhaka University authorities on Thursday announced an annual budget of Tk 831.79 crore for the 2021-22 fiscal year with only 1.32 per cent allocation for research.
DU treasurer Professor Mamtaz Uddin Ahmed placed the budget in the annual senate session of the university at the Nabab Nawab Ali Chowdhury Senate Bhaban with the senate chairman and vice-chancellor, Professor Md Akhtaruzzaman, in the chair.
The size of this year's budget decreased by Tk 37.77 crore in comparison to the previous year's budget of Tk 869.56 crore.
This year the university allocated Tk 11.00 crore — 1.32 per cent of total budget — for research purpose.
According to the new budget, the university will spend 31.80 per cent of the total budget for salary, 27.01 per cent for allowances, 20.20 per cent for goods and services, 14.76 per cent for pension and retirement facilities, 2.61 percent for capital grant, and 2.30 per cent for other grants.
As per the proposed budget, the University Grants Commission will provide Tk 696.54 crore, 83.74 per cent of the total, and Tk 65 crore, 7.81 per cent of the total, will come from the university's own revenue.
And there will be a deficit of Tk 70.25 crore — 8.45 per cent — in this fiscal year.
In 2020, Dhaka University authorities announced a Tk 869.56 crore budget for the 2020-2021 financial year.
According to the 2020 budget, the university spent 55.52 percent of the total allocation for wages and allowances, 22.77 percent for the goods and services, 14.38 percent for the pensions and retirement facilities, 1.09 percent for researches, 2.72 percent for special grants and 3.52 percent for capital sector.
Want stories like this in your inbox?
Sign up to exclusive daily email
More Stories from Country