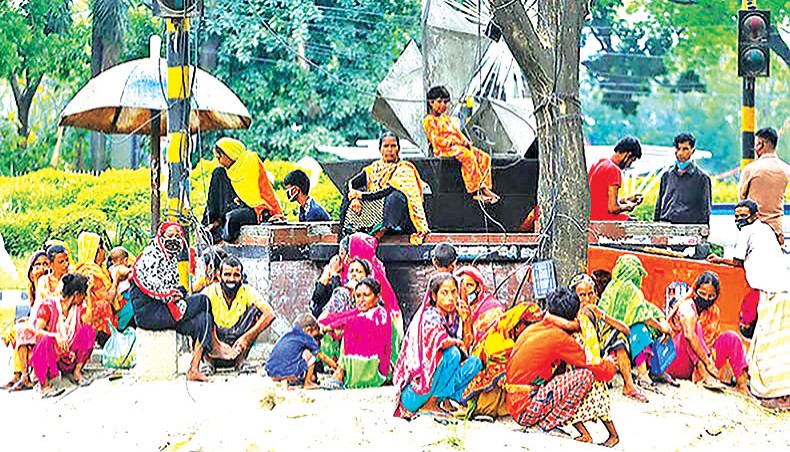 The poor's deposits in their bank accounts, opened with Tk 10 as initial deposit, dropped by 32.32 per cent or Tk 104.32 crore to Tk 218.44 crore in March 2021 from Tk 322.76 crore in March 2020, accrording to a Bangladesh Bank report.
Deposits in the accounts of the government's SSN programmes also dropped by 20.72 per cent or Tk 179.52 crore to Tk 686.94 crore as of March 2021 from Tk 866.46 crore a year ago.
The BB report said that the Covid outbreak hit the poor people hard. It mentioned that the deposit situation in the extreme poor's bank accounts was a reflection of their financial ups and downs.
'Yearly decreasing trend in the amount of their bank deposits indicates the need for cash during the period,' it said.
The distressed situation of the lower segment of the people in the country was also reflected in different researches which were conducted after the outbreak of coronavirus.
In January, research organisation South Asian Network on Economic Modeling published a report in which it said that the upper poverty rate increased from 21.6 per cent in 2018 to 42 per cent in 2020 while the lower poverty rate went up from 9.4 per cent in 2018 to 28.5 per cent in 2020.
Average per capita household expenditure in 2020 decreased by 45 per cent, 29 per cent and 17 per cent in extreme poor, moderate poor and vulnerably poor households respectively compared with that in 2018.
'The trend shows that the poor are the worst victim of the coronavirus-induced economic shock,' Policy Research Institute executive director Ahsan H Mansur told New Age on Thursday.
'It also shows that the shock was less intense on the people who have received financial assistances from the government,' he said.
The financial shock was more intense on the people who had not received any cash assistance at all, he said.
The number of bank accounts with over Tk 1 crore in deposit increased by 10,051 in 2020, showing a rising trend of rich people in the country.
The number of bank accounts with over Tk 1 crore in deposit increased to 93,890 as of December 2020 from 83,839 as of December 2019.
Asked about the deterioration in financial health of the poor against an increase in the number of accounts with over Tk 1 crore in deposit, Ahsan H Mansur said that the number of billionaires had increased significantly amid the pandemic.
'The recovery from the coronavirus apprears to have taken a 'K' shape where the rich are becoming richer and the poor are becoming poorer,' Mansur said.
He said that the country's economic growth had pulled out a large number of people from poverty but it was not equaliser in terms of income distribution.
'Rather, a section of people have made a huge amount money by means of corruption amid political criminalisation and power capturing, which has resulted in social imbalance,' he said.
Mansur also said that measures to provide cash assistances would never be able to bring the poor out of poverty, rather their situation would remain unchanged until measures are taken to bring an end to corruption and changes are made in taxation policy.
Want stories like this in your inbox?
Sign up to exclusive daily email
More Stories from Banking