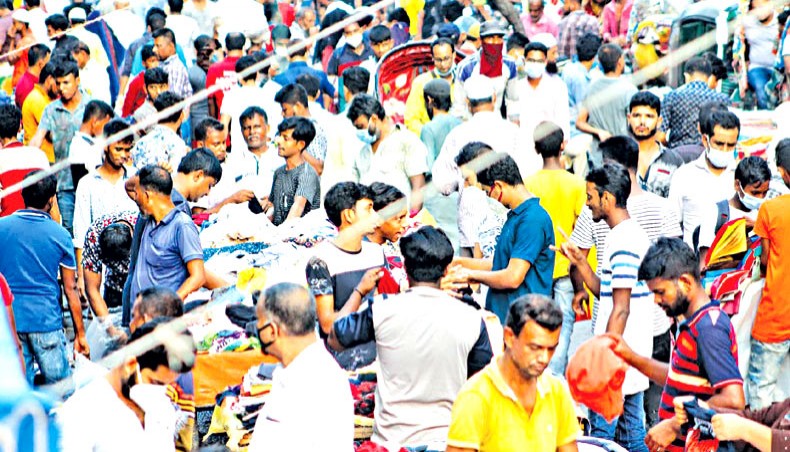 BANGLADESH has extended restrictions imposed on public activities and movement across the country and has put a number of bordering districts under strict restrictions. For economic reasons we cannot afford to put the whole country on lockdown for an indefinite period to contain the spread of Covid-19. We are apprehensive of what is to come as the Covid infection and death rates continue to rise to a dangerous level in many districts across the country. While the nationwide positivity rate went up recently, bordering districts have been experiencing very high infection rates for the past couple of weeks. It has every chance to go to the central districts.
According to health experts, this drastic surge is owed to the spread of the Indian variant, now being called the delta variant, of the virus at the community level and lax implementation of restrictions and health guidelines. Since we are not having any vaccines at this time, our only hope to protect us would be following the preventive measures. Even if anyone is vaccinated, it will take time for antibody formation. The wearing of masks can keep the virus at bay, stopping the chain of transmission.
Everyone must wear masks, maintain social distancing and follow other health guidelines when outside home. Markets, shops and shopping malls must maintain the required and prescribed health guidelines such as arranging for hand-washing facilities, sanitiser and disinfecting services at entries of shopping malls. Movement of vehicles engaged in transporting commodities through highways and river routes need to continue following health guidelines issued by the health authority. Buses must not be allowed to ply with passengers on both seats. If any public transport breaks the norm, both the passengers and bus owner should be fined. In many places we are seeing this rule is being flouted. Ahead of Eid-ul-Azha, the authorities need to ensure that cattle markets follow the health guidelines issued by the government.
Educational institutions should not be allowed to remain open during the restriction, when imposed locally. However, online courses or distance learning courses need to continue. Rallies, meetings, mass gathering and any functions should remain suspended during the restriction while people could offer their prayers at mosques and other places of worship maintaining the guidelines issued by the religious affairs ministry. If anyone shows indifference, he must be penalised.
Health guidelines and restrictions on gatherings have to be enforced more stringently, while the vaccine is not yet at hand, we must continue without any hitch and the authorities must try to increase oxygen supply and ICU beds in the public hospitals, especially those in the affected districts outside Dhaka.
There have been a number of conflicting opinions on whether face masks can prevent the transmission from one person to another. When you wear a mask, you are making an effort to protect the health of others in your community and you are also keeping yourself and the people you love safe from Covid-19. Wearing mask shows that you care for yourself and for your family and community too. Make wearing a mask a normal part of being around other people. Be used to it as part of a comprehensive strategy of measures to suppress transmission and save lives. A mask is only effective if it is worn correctly. Choose a mask that allows you to breathe easily.
Do not touch the mouth covering a portion of the mask, if you have to hold it, hold the ear loops. One should clean their hands before putting the mask on, as well as before and after taking it off. Make sure it covers your nose, mouth and chin. Do not put a mask on a child under the age of two years, or who is incapacitated, unable to open it without help. Never put a mask around your neck or forehead. Do not reuse a single-use mask, it could be dangerous. When a mask is wet, make sure to change it, to be on the safe side. A wet mask becomes porous and ineffective. For health workers, medical masks are essential personal protective equipment when engaging with patients with suspected, probable or confirmed Covid-19. Respirator masks (such as FFP2, N95) should be used in settings where procedures generating aerosols are performed and must be fitted to ensure that the right size is worn.
Covid-19 spreads mainly from person to person through respiratory droplets. Respiratory droplets travel into the air when you cough, sneeze, talk, shout or sing. These droplets can then land in the mouths or noses of people who are near you or they may breathe these droplets in. Masks are a simple barrier to help prevent your respiratory droplets from reaching others. Studies show that masks reduce the spray of droplets when worn over the nose and mouth. When the virus is on the surface of any object, it can live there for some time. If you unknowingly touch the virus, you are still safe, since your face is covered by a mask.
You should wear a mask, even if you do not feel sick. This is because several studies have found that people with Covid-19 who never develop symptoms and those who are not yet showing symptoms can still spread the virus to other people. The main function of wearing a mask is to protect those around you, in case you are infected but not showing symptoms. It is especially important to wear a mask when you are unable to maintain social distancing. Above all, the law is to protect people from impending danger. We all should be aware of the danger and by respecting the law we need to deal with the danger. If we cannot stop the virus transmission, the infection rate is not going to go down; and that will be catastrophic for both the public health and the national economy.
Dr Zubair Khaled Huq is a public health specialist.
Want stories like this in your inbox?
Sign up to exclusive daily email
More Stories from Opinion