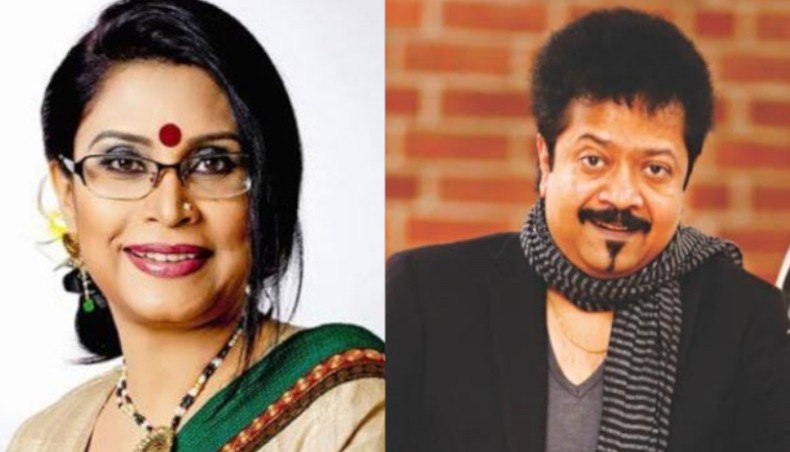 Renowned Rabindra Sangeet singer Rezwana Choudhury Bannya and acclaimed singer Kumar Bishwajit have been respectively elected the president and general secretary of Singers' Association of Bangladesh for a two-year term.
Kumar Bishwajit confirmed the matter to New Age.
'We are glad that the very first committee of Singers Association of Bangladesh has assumed office. We want to work for the betterment of singers of our country. We have already placed a 17-point demand, comprising launching of national music award for singers, health care facilities for eminent musicians, insurance policy and office space for music organisations and others, to the authorities concerned. If the demands are fulfilled, artistes would get economic and social relief,' said Kumar Bishwajit.
'The committee was formed at a virtual general meeting held on Tuesday,' added Kumar Bishwajit.
The organisation's advisor Rafiqul Islam proposed the names of the executive committee members for 2021-23. The meeting was attended by 50 artistes.
Tapan Chowdhury and Samina Chowdhury were elected vice-presidents of the committee, Hassan Abidur Reja Jewel was elected assistant general secretary, Joy Shahriar was named organising secretary, Somnur Monir Konal was elected press and publication secretary, Kishore Das was named cultural affairs secretary, Sabbir Zaman was elected technology and training affairs secretary, Moidul Islam Khan Shuvo was named law and international affairs secretary and Yousuf Ahmed Khan was elected the office secretary.
The other members of the executive committee are Robi Chowdhury, Akhi Alamgir, Anima Roy, Alif Alauddin, Labik Kamal Gaurob, Eleyas Hossain, Samarjit Roy, Pintu Ghosh, Sandipan Das, Sajia Sultana Putul and Sahos Mostafiz.
The organisation also declared Ferdousi Rahman, Syed Abdul Hadi, Niaz Mohammad Chowdhury, Khurshid Alam, Rafiqul Alam, Fakir Alamgir, Linu Billah, Shaheen Samad, Rathindranath Roy, Papia Sarwar, Ferdous Ara, Tapan Mahmud, Yeakub Ali Khan, Fatema Tuz Johra, Abida Sultana, Chandra Roy and Shafin Ahmed as advisers.
Want stories like this in your inbox?
Sign up to exclusive daily email