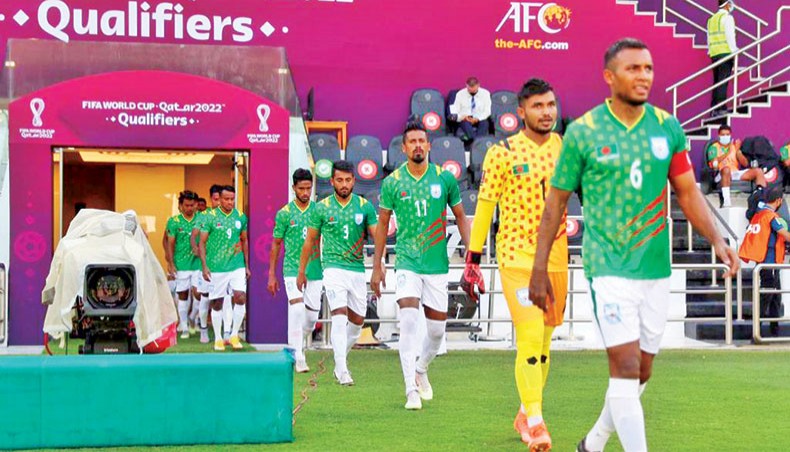 A change of rule by the Asian Football Confederation opened the door for Bangladesh to compete in the final round of the 2023 AFC Asian Cup qualifiers as one of the three best fifth-placed sides of the FIFA-AFC joint qualifiers.
According to AFC's previous qualification system, Bangladesh were supposed to play in the play-off round for AFC Asian Cup qualifications after finishing dead last in the five-team Group E.
But AFC's decision to include the three best fifth-placed teams out of the eight groups into the next phase of the qualifiers came as a boon for Bangladesh.
Bangladesh finished 35th overall in the joint qualifiers and secured qualification as the third best fifth-placed team with just two points which came from two 1-1 draws against India and Afghanistan, while the rest of the six matches ended in defeats.
'Three of the lowest ranked second-placed teams, all eight third and fourth-placed teams across Groups A to H, as well as three best fifth-placed teams – 22 teams in total– have qualified for the 24-team AFC Asian Cup China 2023 Qualifiers Final Round,' AFC said in a media release on Wednesday.
'The following four participating teams (ranked 36 to 39) will be drawn to compete in the AFC Asian Cup China 2023 Qualifiers Play-off, with the two winners qualifying for the AFC Asian Cup China 2023 Qualifiers Final Round,' it concluded.
Bangladesh coach Jamie Day was ecstatic with the revelation and thought that the draw against Afghanistan was the key factor behind this qualification.
'Very pleased for the boys. [They] deserved that. Hard-fought points got us [there]. Delighted for the players and staff, hard work paid off,' Day told New Age.
'It's an exciting news. One point from the Afghanistan match was very important for us, it helped us qualify for the next round and avoid play-off.'
Day's charges will now play six more matches in February-September 2022, where a total of 24 teams, split into six groups, will compete for the remaining 11 slots of the AFC Asian Cup.
The Bangladesh team, who lost to Oman 0-3 in their final qualifier match on Tuesday, is scheduled to return home from Qatar on Wednesday night.
Want stories like this in your inbox?
Sign up to exclusive daily email
More Stories from Football