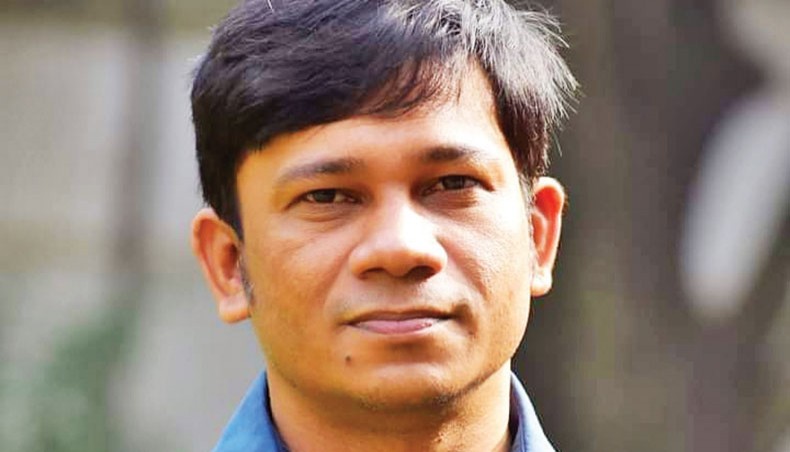 Fiction writer Mojaffor Hossain said that he considers fictions larger than life as fictitious characters give a glimpse into different aspects of life. He draws inspiration for his characters observing lived reality and people around him.
'I draw inspiration from real people. I pay attention to people around me. I observe a person's beliefs and how that person walks, talks and interacts with others. A person's beliefs and actions are the result of his education which he receives at home and educational institutions,' said Mojaffor Hossain, who has published 14 books till date, which includes collections of stories, novel, translation works and essays.
Recently, he was named for Kali O Kalam Tarun Kabi O Lekhak Puraskar 2020 for his debut novel Timirjatra.
Previously he received Exim bank-Anyadin Humayun Ahmed Award and Abul Hasan Sahitya Puraskar for his short stories. He is also passionate about translation and so far translated many short stories and essays from English to Bangla.
Mojaffor views literature as a means of social change and social activism.
'Although I grew up in a village, I started writing looking at the faces of people rather than admiring the beauty of nature. I always think that truth is the crux of the narrative in a fiction, and I consider reality a hoax,' he said, and hastened to add, 'The structures of the family, government, state, United Nations, everything is imposed upon us. As we are forced to accept the servitude of the grand narrative, in a sense, wanting to change society means changing that particular narrative.'
'Literature seems to me one of the main means of changing this narrative that society is made up of,' mentioned Mojaffor.
Mojaffor thinks that without the political elements great literary works cannot be written.
'Any great literary work in the world is the best political text. A writer can be an activist of any political party, but it is not appropriate for any writer to be a blind activist. The writer should be a political critic with a deep understanding of domestic and international politics since social change is not possible without political activism,' he explained.
'A writer has to remain vigilant and constantly criticise the status quo, which can be done through literary pieces. Sometimes, if the need arises, a writer would have to bear some social and state responsibilities after venturing beyond the creative realm,' argued Mojaffor.
Mojaffor's writings throw an adequate light on many paradoxes of life and society.
'I make an attempt to identify the inconsistencies in society, not to give any solutions,' explained Mojaffor, adding, 'If a story is written with the hope of bringing a change to the narrative, it must be told in such a way that it appears as a myth to the readers.'
The writer believes that literature can play an important role by creating a scope for the readers to reorient their minds and by doing so a work of art can affect the pattern of thinking of the entire community where contemporary technology is creating many diversions.
'Writings pack quite a punch. The sound of Nora closing the door echoed across Europe, a sound that Bernard Shaw considered more significant than the sound of cannon at Waterloo. Now that technology and media have revolutionised communication, every agent and unit of society is taking advantage of it, and literature can also use it to its advantage,' he said.
'Since the ''development'' of capitalism has always adopted unfair means, the conflict between art and capitalism has perpetuated for many years. A literary work can be conceived as a critique of capitalism. As a result, the form of anti-institutionalism has to be determined strategically, and writers must consider some crucial issues pertaining to ethics before they agree to accept corporate money,' concluded Mojaffar.
Want stories like this in your inbox?
Sign up to exclusive daily email
More Stories from Literature