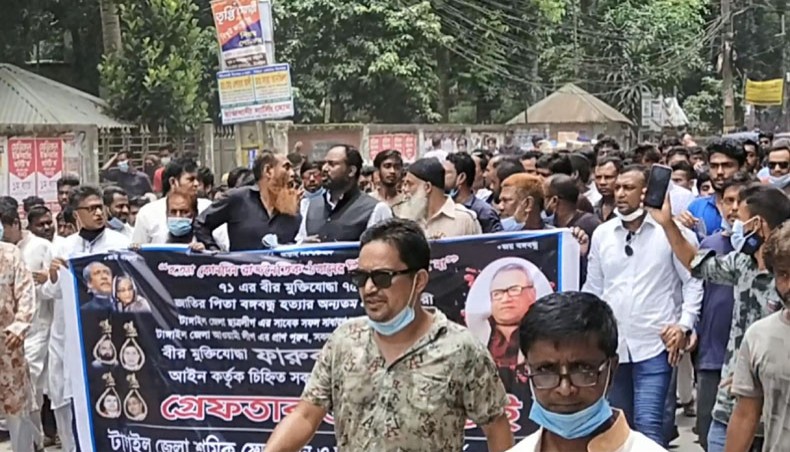 Ruling Awami League lawmaker for Tangail-2 constituency, Tanvir Hasan, on Monday led a procession in Tangail town amid the ongoing government restrictions on public movement and gatherings to contain spread of Covid infection.
Some 3,000 supporters of Tanvir brought out the procession protesting against an alleged threat to university student Roton Rabi Das by former Tanail-3 AL MP Amanur Rahman Khan Rana as well some other local issues.
On Sunday, both the supporters of Tanvir and Amanur declared protest programmes on the Shaheed Minar premises in the town.
Tangail AL is divided into two groups – one led by Tanvir and the other by Amanur, party leaders said adding that both the groups try to establish supremacy in the area.
As a sequel to the declaration, the local administration had deployed police forces in the town since Monday morning.
Later, at about 12:00pm, some 3,000 supporters of Tanvir brought out the procession that paraded the main roads of Tangail district town and ended on the premises of the local Shilkpakala Academy.
On May 31, City University student Roton, also a member of Harijan community, filed a general diary with Tangail police alleging that Amanur threatened to kill him.
He also held a press conference at the Tangail Press Club in this connection on June 1.
Amanur, on the other hand, on June 7 held a press conference at the press club and claimed that the allegation was false and fabricated.
On June 9, Tanvir's elder brother Golam Kibria filed a Tk 5 crore defamation case against Amanur Rahman.
The government on June 6 further extended the restrictions on public movement and activities for 10 more days till June 16 to contain the Covid outbreak.
Public gatherings for social events like wedding, birthday and picnic parties, political programmes and religious functions were also declared banned from June 6 midnight to June 16 midnight.
Want stories like this in your inbox?
Sign up to exclusive daily email
More Stories from Country