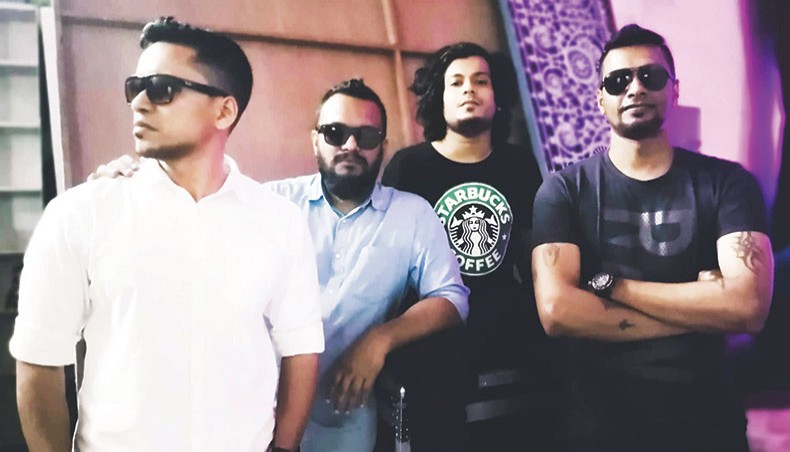 Guitarist and one of the founding members of popular alternative rock band Black, Khademul Jahan, said that online music shows had kept band music alive amid the Covid crisis.
'Different bands have been performing in online music events to entertain music lovers, which have become the only alternative to outdoor concerts after the first Covid case was discovered in the country in March 2020. We are undergoing a tough time and if there were no online music shows, bands would not have remained in touch with their audiences and entertained them in this time of crisis. So online music shows are keeping band music alive amid the Covid crisis,' Khademul Jahan told New Age.
'To entertain coronavirus-quarantined music lovers, Black launched an online project, titled Quarantine Projects, on April 16. Under the project, we have been releasing our old songs using experimental and traditional musical instruments. The band members are participating in this project from their homes. It surely has been a great experience for us,' added Jahan.
'We have covered our popular songs, including Apalap and Abinashwar, using different musical instruments namely kajon, ghatam, sitar, mbira, kazoo and others. The songs, which were uploaded on the band's Facebook page and YouTube channel of G series, have received huge response from music lovers,' he mentioned.
Black has been participating in various online events. The band will participate in Indo-Bangladesh Quarantine Gig organised by Minutes of Entertainment on June 16. Besides, Jahan will participate in an online programme titled Catch Khademul Jahan which will be streamed live on June 17 at a Facebook page named Podcast with AK Rahul.
Black is looking forward to releasing its sixth album after the Covid situation improves.
'After a hiatus of four years, we are now set to release our next album. Though we wanted to release the album in July before Eid-ul-Azha, we decided to delay its release due to the Covid crisis,' said Jahan.
'The upcoming album will feature eight songs. It will be released under the banner of G-series. We have recorded two songs. We are eagerly waiting for the Covid situation to improve so that we can record the rest of the songs. We plan to resume recording in August or September. The album will be available at G-series outlets. Besides, the album will be released on online streaming platforms,' said Jahan, adding that bands have been living off revenues from merchandise sales nowadays.
'As all outdoor concerts have been cancelled, we have lost our main source of income and have been living off revenues from merchandise sales. We have launched facemasks, T-shirts, hoodies, caps, bags etcetera which have been bought in large numbers by our fans. I thank them for supporting us,' mentioned Jahan.
Black's current line-up is as follows — Rubayet Chowdhury on vocal and guitar, Khademul Jahan on guitar, Charlz Francis on bass and Farhan Tanveer on drums.
The band released its debut album titled 'Amar Prithibi' in 2002. Its second album 'Utsaber Por' was released in 2004. The third album of Black, named 'Abar' was released in 2008. The band released its fourth and self-titled album 'Black' in 2011. Its fifth album 'Unomanush' was released in November of 2016.
Black is inviting fans to submit old photographs and videos of its gigs.
'We are inviting our fans to submit old photographs and videos of old concerts where Black had performed. We will upload those on our official Facebook page,' said Jahan.
'The Covid crisis will eventually pass. Until then, I urge music lovers to follow the health directives, maintain social distancing and not to go outside unless it is absolutely necessary,' he ended.
Want stories like this in your inbox?
Sign up to exclusive daily email