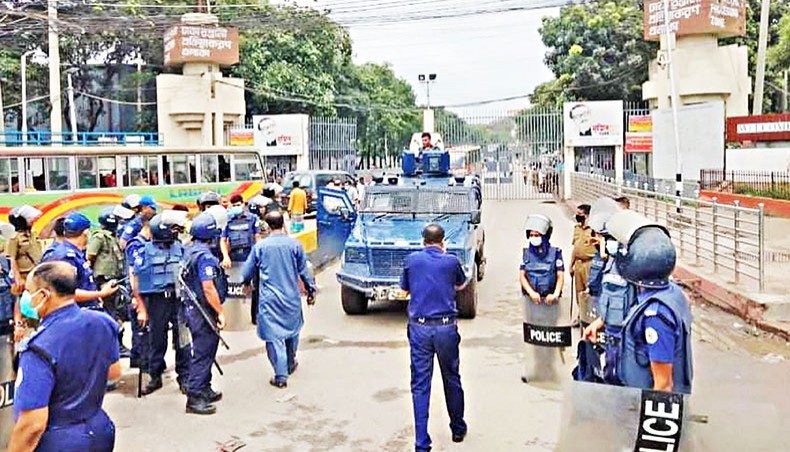 A female readymade garment worker was killed and 35 others injured as the police dispersed workers demonstrating for the payment of arrears on Dhaka-Tangail Highway at Ashulia on Sunday.
The police lobbed teargas shells, fired rubber bullets, charged batons and used water cannons to disperse the workers of Lenny Fashions Ltd who blocked the highway in front of the Dhaka Export Processing Zone to press home their demand, according to witnesses.
The deceased, Jesmin Begum, 32, was a junior sewing operator of Goldtex Garments Ltd of the DEPZ.
'Jesmin was injured critically in her head as she bumped into an iron pole while fleeing the spot,' said superintendent of the industrial police in Ashulia, Md Asaduzzaman.
She died from the injuries at Dhaka Medical College Hospital, said Bacchu Miah, the DMCH police camp in-charge.
Workers claimed that Jesmin was one of the 6,000 workers of Lenny Fashions Ltd, an Indian-owned two-unit factory which was declared closed on January 20.
Jesmin joined Goldtex Garments after the closure of Lenny Fashions.
Witnesses said that over 500 workers of Lenny Fashions joined the demonstration at around 6:30am, suspending the traffic movement on the busy highway for around two hours.
While the police used force to disperse the workers, they pelted the law enforcers with bricks.
The protesting workers said that the authorities announced closure of the factory without paying any dues in January.
Since then, they have been demonstrating for their arrears. But the authorities have yet to clear the arrears completely, said the workers.
DEPZ general manager Abdus Salam said that the factory authorities had paid Tk 35 crore in arrears so far but they had yet to pay remaining Tk 59 crore.
'The factory owner and the Bangladesh Export Processing Zone Authority are trying together to sell the factory to pay the workers but it will take time,' he said.
The Garment Workers Trade Union Centre, the Garment Workers' Solidarity and the Garment Workers' Front, among others, condemned the killing of Jesmin.
Leaders of the unions demanded a fair investigation and justice and compensation for the worker.
GWS president Taslima Akhter said that the workers were demonstrating for their arrears as they had the right to demonstrate.
Instead of payment, the authorities attacked workers, killing Jesmin, she said.
The GWS declared a protest rally in front of the National Press Club for today.
The police said that Jesmin was the wife of Mahbub, a security guard from Khulna.
Want stories like this in your inbox?
Sign up to exclusive daily email
More Stories from Apparel