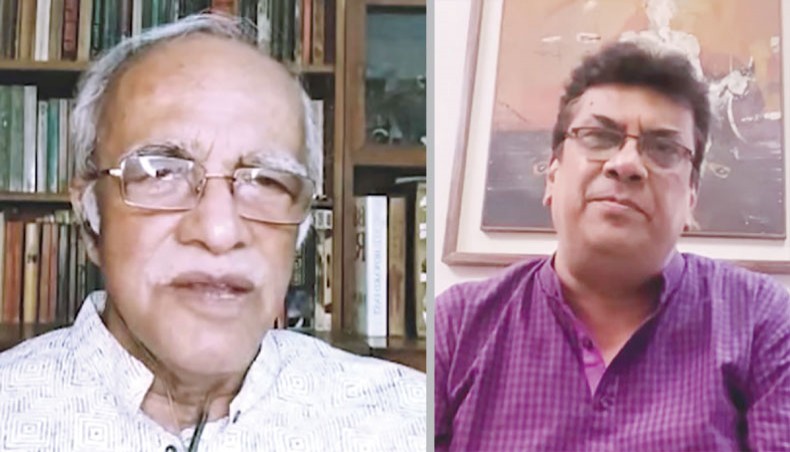 Cultural organisation Chhayanaut paid tribute to the late renowned musicians, who died in 2020 and 2021, organising an online programme on Friday night.
The programme titled 'Tomader Smari' was streamed live at the Facebook page of the organisation and YouTube channel named Chhayanaut Digital Platform at 8:00pm on Friday.
Chhayanaut paid tribute to the late musicians namely Azad Rahaman, Joseph Komol Rodrigues, Flora Ahmed, Nilotpal Sadhya, Sanjib Dey and Sumon Norman Kampur at event.
The programme featured songs recorded by the late artistes and their short biographies. Besides, guests and Chhayanaut artistes shared their memories of the late artistes at the event.
Chhayanaut general secretary Laisa Ahmed Lisa commenced the programme rendering a Tagore song Maransagar pare tomra amar, tomader smari.
'We are going through a tough time. We lost many artistes who taught at Chhayanaut. We want to pay tribute to them in today's programme,' said Laisa Ahmed Lisa.
Mofidul Hoque spoke on the life and work of Nilotpal Sadhya at the programme.
Cultural activist, singer and music teacher Nilotpal Sadhya was born in Dhobaura village under Mymensingh district on December 6, 1955. He died on March 17, 2020.
'Nilotpal Sadhya started learning music at an early age. He was greatly inspired by Pankaj Kumar Mullick's singing when he was an adolescent. He was a dedicated music teacher and involved with Chhayanaut and Bangladesh Rabindra Sangeet Sammelan Parishad,' said Mofidul Hoque.
Following which, a song Kheya ghater patni esechhe, recorded by Nilotpal Sadhya, was streamed at the event.
Lopa Ahmed recalled Tagore singer Flora Ahmed at the event.
Flora Ahmed was born at Khetripara in Dinajpur on June 15, 1953. She was youngest among her six siblings. She died on March 19, 2020.
'Flora Ahmed was a leading Tagore singer, even though not many videos of her songs can be found today. Her songs help me find peace,' said Lopa Ahmed.
Later, a Tagore song Dukkho rate hey nath, recorded by Flora Ahmed, was played at the event.
Khairul Anam Shakil shared his memories of Azad Rahman at the event.
Noted music maestro Azad Rahaman was born to Khalilur Rahman and Ashrafa Khatun in Bardhaman, India on January 1, 1944. He was the eldest among eight children of the couple.
Azad Rahaman obtained his Honours degree in khayal from the Rabindra Bharati University, Kolkata.
Besides classical music, he received training in folk songs, kirtan, dhrupad, toppa, thumri, Tagore songs as well as songs of Atul Prasad, DL Rai and Rajani Kanta.
He died on May 16, 2020.
'I met Azad Rahaman for the first time in the late '60s, when I was a first year student at Chhayanaut. Azad Rahaman had to struggle a lot to make a name for himself as a musician in the country's music industry after he migrated to Dhaka from India,' said Khairul Anam Shakil.
'He joined as a music director at Bangladesh Betar and continued to pursue classical music. He made outstanding contribution to the country's music scene,' added Shakil, who also paid tribute to Azad Rahman rendering a kheyal.
Besides, Leedi Haque remembered Sumon Norman Kampur, Ashit Dey remembered Sanjib Dey and Dalia Nawshin remembered Joseph Komol Rodrigues at the event.
Want stories like this in your inbox?
Sign up to exclusive daily email