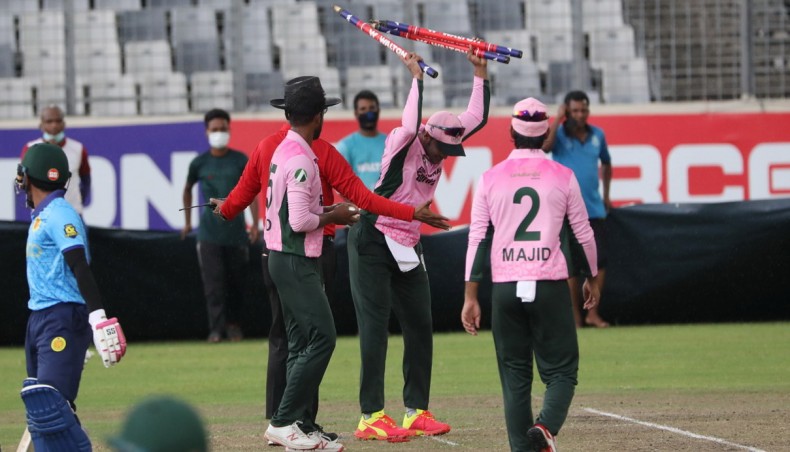 Cricket Committee of Dhaka Metropolis, the governing body of Dhaka Premier League, has banned Shakib Al Hasan for three matches and fined him Tk five lakhs for his multiple outbursts during the match against Abahani Limited on Friday.
Chairman of the CCDM Kazi Inam Ahmed and Bangladesh Cricket Board media committee chairman Jalal Yunus appeared in a media briefing on Saturday at Gulshan and said that Shakib has admitted his guilt and received the sanction unopposed.
'In the match, there were two incidents by Shakib. For that he received sanctions for two level-3 breaches. He is banned for three matches and penalised by Tk five lakhs,' Kazi told the media.
'Shakib received the sanction letter and signed accepting the punishment, therefore a hearing was not required,' Yunus said.
The first incident happened during the last ball of the fifth over of the Abahani innings.
Shakib struck opposition captain Mushfiqur Rahim on the pads and appealed for a leg before wicket but was turned down by on-field umpire Imran Parvez.
Shakib, irate with the decision, kicked the stumps right in front the umpire much to the shock of the players and the handful of officials and media personnel present at the venue.
The situation aggravated further when the umpires stopped the play for rain after 5.5 overs.
Shakib, in a fit of rage, rushed to the pitch, uprooted all three stumps and threw it to the ground while verbally berating the umpire.
While returning to the dressing room after the second incident, Shakib made a taunting gesture towards the Abahani dugout, which enraged Abahani coach Khaled Mahmud who wanted to rush towards the Mohammedan skipper but was stopped by Mohammedan player Shamsur Rahman and other support staff.
Mohammedan eventually won the match by 31 runs in Duckworth and Lewis method.
Immediately after the match ended, Shakib posted an apology for his outburst on his social media platforms and was also seen in a jovial mood with Abahani players.
This is not the first time Shakib has had an altercation with an umpire in a domestic tournament, as he had earlier abused umpire Tanvir Ahmed during a Bangladesh Premier League match after the latter turned down his appeal.
On that occasion, Shakib was suspended for one match and was fined Tk 20,000.
Want stories like this in your inbox?
Sign up to exclusive daily email
More Stories from Cricket