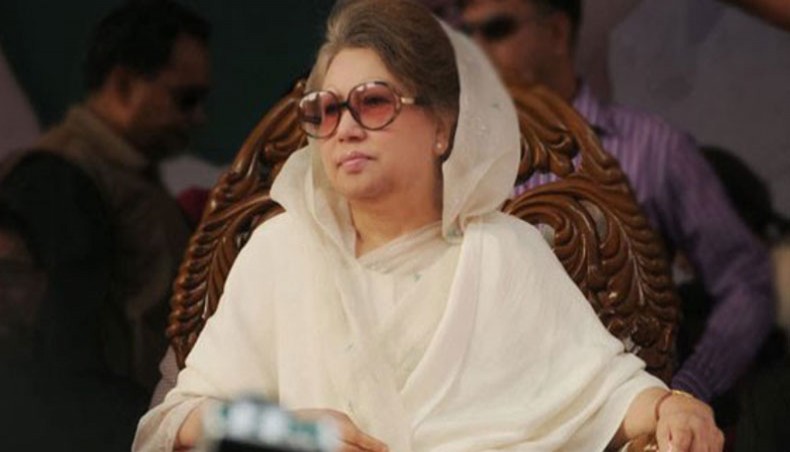 The life of Bangladesh Nationalist Party chairperson Khaleda Zia is still at risk as she is undergoing treatment at Evercare Hospital in Dhaka with kidney and heart problems, said the party's secretary general Mirza Fakhrul Islam Alamgir on Friday.
At a press conference at the Gulshan office of Khaleda Zia Fakhrul said that Khaleda's heart and kidney problems had become critical after she contracted and recovered from Covid-19.
Fakhrul said that members of a medical board formed to give her treatment suggested that she should be taken to hospitals abroad as healthcare in Bangladesh hospitals are not advanced.
'The medical experts are saying that she should go abroad for advanced treatments and we are saying so repeatedly,' Fakhrul said.
On May 5, Khaleda Zia's younger brother Shamim Eskander submitted an application to home minister Asaduzzaman Khan seeking permission to send Khaleda Zia, who tested positive for Covid-19 on April 11, abroad for better treatment.
After receiving the application, the ministry forwarded it to the law ministry for its opinion.
On May 9, after getting the law ministry's opinion, the home minister told reporters that the government could not allow Khaleda to go abroad as she is a convict and that there was no instance of allowing any convict to go abroad for treatment.
The 74-year-old former PM was released from Bangabandhu Sheikh Mujib Medical University's prison cell on March 25, 2020 on an executive order on conditions that she would take medical treatment at home and would not leave the country.
She has been staying at her Gulshan house in Dhaka since then.
After Khaleda tested positive for Covid-19, she was admitted to Evercare Hospital in the capital on April 28 for some more tests as part of her follow-up medical check-up.
She has been undergoing treatment there as she was suffering from various post-Covid complications.
Fakhrul at the press conference also demanded immediate release of BNP leaders and activists, including Aslam Chowdhury and Nipun Roy, who were arrested before the Bangladesh visit of Indian prime minister Narendra Modi on March 26.
BNP standing committee member Gayeshwar Chandra Roy, vice‑chairman and father of Nipun Nitai Roy Chowdhury also spoke at the press conference and demanded unconditional release of Nipun and others.
The advisory council member of BNP chairperson, Fazlur Rahman, law affair secretary Kaiser Kamal and Nipun's lawyer Masud Ahmed Talukder also spoke at the press conference.
Central leaders of the party Riaz Uddin Nosu, Taiful Islam Tipu and Syrul Kabir Khan, among others, attended the press conference.
Want stories like this in your inbox?
Sign up to exclusive daily email
More Stories from Country