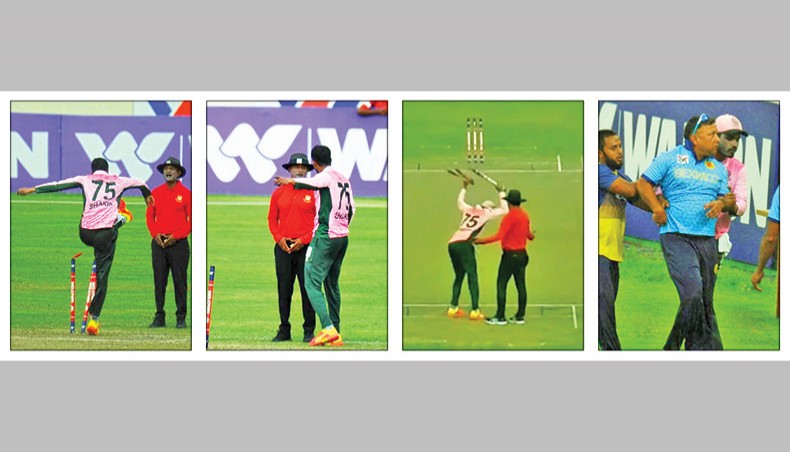 Shakib Al Hasan landed himself in fresh controversy as he kicked the stumps after his appeal against Mushfiqur Rahim got turned down by umpire Imran Parvez during a Dhaka Premier League match between Abahani Limited and Mohammedan Sporting Club at the Sher-e-Bangla National Stadium in Mirpur on Friday.
Shakib, who is the captain of Mohammedan, became furious after his appeal for leg before wicket against Mushfiq was rejected by the umpire in the last ball of the fifth over.
He then furiously kicked the stumps and engaged in a heated conversation with the on-field umpire.
The situation escalated further when the umpires stopped the play for rain after 5.5 overs, which made Shakib fume with anger as he rushed to the pitch, uprooted the stumps and threw it away while berating the on-field umpire.
While heading back to the dressing room, he also made an indecent gesture towards Abahani players which enraged Khaled Mahmud, the coach of Abahani, who wanted to rush towards the Mohammedan cricketer but Shamsur Rahman stopped him.
In the same match, while batting, Shakib indicated to the square-leg umpire with a hand gesture that Abahani spinner Arafat Sunny was chucking.
Earlier, Mohammedan batted first and scored 145-6 in 20 overs. Abahani was struggling on 31-3 in 5.5 overs when rain interrupted play.
Play resumed after 83 minutes and Abahani were set a revised target of 76 runs off nine overs, meaning they needed to score 45 runs off 19 balls to win the match against their arch-rivals.
But the defending champions ended up on 44-6 after 9 overs, handing Mohammedan a crucial 31-run win in Duckworth and Lewis method.
The win gave Mohammedan two important points which kept them in the race to reach the super league.
Immediately after the match, Shakib used his social media accounts to seek an apology for his outrageous actions.
'Dear fans and followers, I am extremely sorry for losing my temper and ruining the match for everyone and especially those who are watching from home. An experienced player like me should not have reacted that way but sometimes against all odds it happens, unfortunately,' wrote the all-rounder on his verified Facebook page.
'I apologize to the teams, management, tournament officials, and organizing committee for this human error. Hopefully, I won't be repeating this again in the future. Thanks and love you all,' the post further read.
Despite the apology, Shakib is likely to face some consequences as Cricket Committee of Dhaka Metropolis chairman Kazi Inam Ahmed told the media that the authority will further investigate the matter.
'It is unfortunate. But we expect that the players to keep their emotions under control. Like an international game, this is a 'List-A' game. We have our players' control team which is the match referee and umpires.
'We are expecting that they will give a report by tonight. There are rules in place and we will act accordingly,' the CCDM chairman told the media at the SBNCS premises after the match.
Brief Score
Mohammedan SC v Abahani Limited
Mohammedan 145-6 in 20 overs (Shakib 37, Mahmudul 30 not out; Swadhin 3-24) v Abahani 44-6 in 9 overs (Mushfiq 18; Shuvagata 3-17)
Result: Mohammedan won by 31 runs (D/L method)
Want stories like this in your inbox?
Sign up to exclusive daily email
More Stories from Cricket